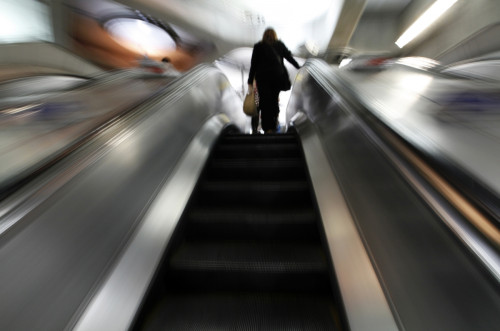 A pervert who filmed up women's skirts on the London Underground network has been banned from taking pictures of "any woman in the country" apart from his relatives.
Kevin Andrews, 52, of Luton was caught filming up the skirt of a schoolgirl on an escalator at Moorgate Tube station, thanks to the keen eye of an off-duty special constable.
A Metropolitan Police staff member confronted Andrews, who was using his mobile phone to secretly make the film. The constable then called for officers from the British Transport Police to make an arrest.
A search of his home revealed a library of similar videos stored on computer discs.
Pleading guilty at Blackfriars Crown court to possessing an indecent image of a child and two counts of outraging public decency, Andrews was banned from photographing any woman in the country except for relations and friends.
He was handed a six month suspended sentence and put on the sexual offenders register for seven years.
Detective constable Darren Davis praised the special constable who collared Andrews.
Davis said: "The special constable was suspicious of Andrews because his behaviour was unlike everyone else on the platform. He was clearly watching female passengers so the officer started following him. Thanks to the quick actions of the off-duty special constable, Andrews was quickly arrested.
"We don't tolerate unwanted sexual behaviour of any kind on the transport network and take all reports seriously."