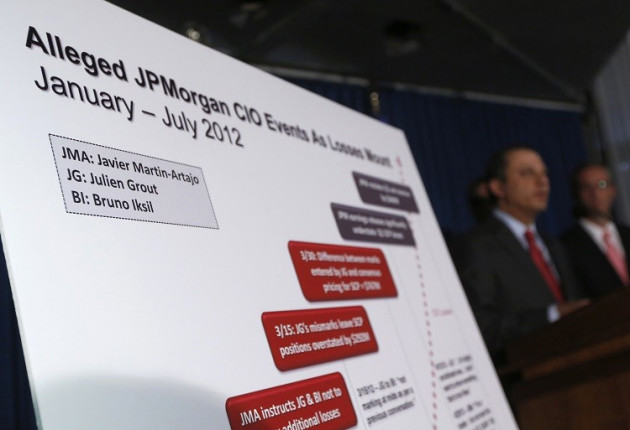 The two JPMorgan traders charged by US authorities with trying to cover up the bank's vast losses are blaming the so-called 'London Whale' Bruno Iksil as part of their defence strategy.
According to unnamed sources cited by the Wall Street Journal, Javier Martin-Artajo and Julien Grout will say that Iksil was the one responsible for valuing the group's positions, not them.
The pair are defending themselves against charges which include wire fraud, falsifying books and records, making false filings with a US regulator, and conspiracy.
Only one week ago, the Manhattan federal grand jury indicted Martin-Artajo and Grout on five criminal counts for allegedly inflating the value of derivative positions that led to the losses.
Martin-Artajo headed up JPMorgan's Chief Investment Office, the team which made a series of catastrophic trades resulting in a $6.2bn (£4bn, €4.7bn) legal loss for the bank.
According to information provided to a US Senate panel that looked into the trading, Julien Grout, a former junior trader, was tasked with recording and distributing daily values on the team's positions.
Furthermore sources say that Grout, a junior trader, will tell the court that he was inexperienced and usually Iksil would have told him what numbers to use and give pricing guidance.
According to the sources close to Martin-Artajo, he will argue that Iksil was responsible for the trading losses.
JPM Fines
In the same week of Artajo and Grout's indictment, JPM stumped up nearly $1bn to US and UK financial regulators over the London Whale trading scandal.
The UK's Financial Conduct Authority (FCA) said JPMorgan's bad conduct in this case went from portfolio level, up to senior management, and fined JPMorgan £137.6m.
US regulators have also fined JPMorgan $700m over the same scandal, which has seen two of its former staff members indicted on fraud charges amid allegations they attempted to mask part of the huge loss.
Iksil has not been arrested over the trades, which were legal.
The bank was fined $200m by the US Securities and Exchange Commission, $300m by the Office of the Comptroller of the Currency, and another $200m by the Federal Reserve.
It takes JPMorgan's total fine to $920m.