Three Chinese businessmen who flew from Hong Kong to Dallas on a work trip only to have their final connecting flight to Nashville cancelled have embarked on what is known as the longest Uber ride in history.
The stranded group had to make a meeting the next day and after repeated delays and an eventual cancellation they took the decision to call upon Uber, and part-time driver Brent Pfieffer came to their rescue. The result was a mad 11.5 hour, 650 mile dash across country to Nashville, Tennessee that ended up costing approximately $1100 (£850), according to local news network WFAA.
Pfieffer got the request from an Uber operator at 11:45pm the night before and initially thought it was a joke but was soon picking up the passengers from Dallas Fort Worth airport.
"We had a few stops on the way," he told WFAA. "They spoke enough broken English we could converse. They were in a good mood. They were upset they didn't have their bags and didn't get the flight, but other than that it was a fun ride."
Once Uber has processed the fare it's believed Pfieffer will pocket around $800 for his efforts from his Uber XL.
A check on Uber's fare estimator showed that fares could have soared to over $3000 had the group chosen to ride with the more premium UberBlack or UberSUV offering.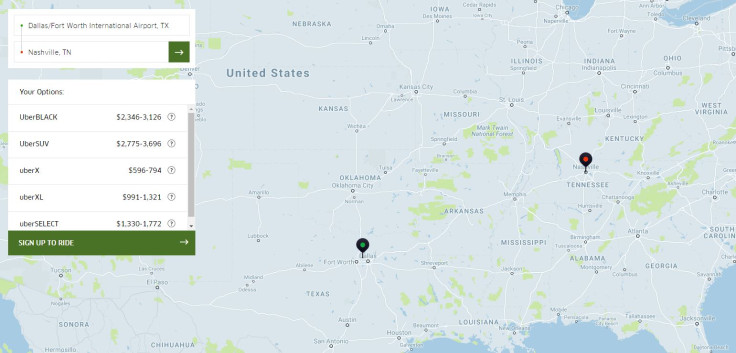 There have been numerous reports of uber-long Uber rides, including a 400-mile trip from Virginia to Brooklyn, New York by a woman who wanted to visit her boyfriend and also a 550-mile fare from Omaha, Nebraska to Denver, Colorado. Both were reported in December 2016, with the latter believed to be the longest known Uber journey to date, but neither come close to this Dallas to Nashville run.