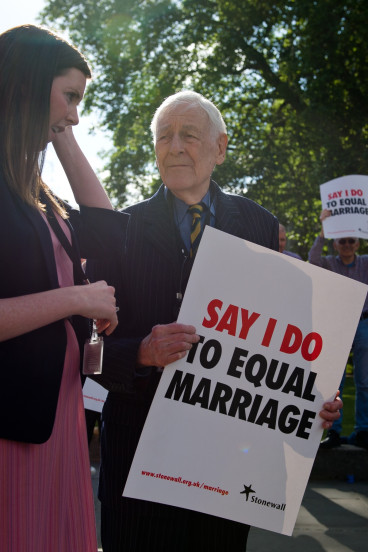 Lord Avebury, the veteran Lib Dem MP and renowned human rights campaigner, has died aged 87 after suffering from a form of blood cancer. Born Eric Lubbock, the MP is best known for his victory in the 1962 by-election in Orpington where he turned a seat with a Tory majority of nearly 15,000 into a Lib Dem win, a swing of nearly 22%.
He was also the longest-serving Lib Dem in the House of Lords after taking his place in the chamber in 1970. In 1999, when most hereditary peers were removed from the House of Lords, he was elected by his fellow Liberal Democrats to remain.
He died after suffering incurable form of blood cancer known as myelofibrosis and became an advocate of the assisted dying bill.
During his 50-year political career, the father-of-five, Buddhist and supporter of the National Secular Society (NSS), was known for campaigning for a serious of human and civil rights including gay marriage in Britain and the citizenship rights of the solely British ethnic minorities in Hong Kong.
Lib Dem leader Tim Farron paid tribute the 87-year-old following his death, describing him as a "true champion of the Liberal cause". Farron added: "He was a true Liberal who will be remembered as much for his unyielding commitment to fighting for Liberal causes as his sensational by-election victory in Orpington in 1962.
"He campaigned to lower the voting age, founded the Parliamentary Human Rights Group and fought for the rights of refugees and asylum seekers, taking up the cases of hundreds of individuals fleeing persecution.
"He was a committed internationalist, regularly promoting human rights around the world. He was a strong supporter of citizenship rights for British minorities in Hong Kong and campaigned against the persecution of religious minorities across many countries. It was a personal honour for me to speak at the 50th anniversary of his by-election victory at the National Liberal Club."
Keith Porteous Wood, NSS executive director and a close friend of Lord Avebury, commented: "He was so charming and knowledgeable, working with him – as we did for well over 10 years – was such a pleasure. He certainly helped the NSS hugely and I got the impression he thought that our assisting him over that period had enriched the end of his career. And what a distinguished one it was. I have been moved by the number of politicians who have approached me as it has become clear that he was dying, to say that they thought he was one of the most effective peers of his time.
"He was always disarmingly frank and pragmatic about his death and he told me once how long a consultant said he had to live. He took the prediction very literally and precisely; I even joked with him he seemed to be treating it like an appointment and we both laughed. Similarly he joked with me how many of his ancestors had met their ends by being executed. Was it 10? I forget.
"He certainly comes from a great lineage. The first Baron Avebury was a polymath, a successful banker and the most successful lawmaker of his time. He was a neighbour of Charles Darwin and one of his closest friends. He was responsible for introducing Bank Holidays, creating the cheque clearing system, the Shop Hours Act, Open Spaces Act, Public Libraries Act, the Ancient Monuments Act, which paved the way for the creation of English Heritage. He bought the stone age circle in Avebury, Wiltshire to save it for the nation – from jobbing builders who were about to destroy it."