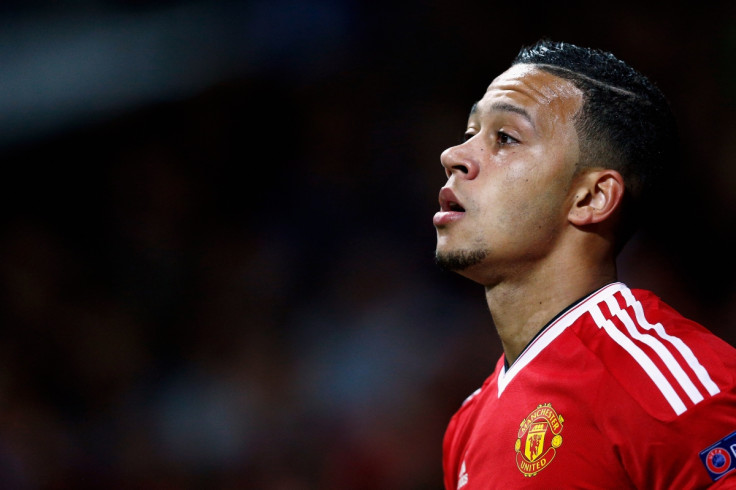 Memphis Depay has been warned by manager Louis van Gaal he risks following in the footsteps of Old Trafford flops Angel di Maria and Radamel Falcao if he does not adapt to the Manchester United philosophy. Depay was an unused substitute in the 3-0 win against Everton at the weekend, having previously started all eight of the club's Premier League fixtures since his summer move from PSV Eindhoven.
Depay joined United for £25m ($38.7m), according to The Guardian, becoming the club's first signing of the transfer window. Depay has scored once in eight outings in the top flight, but has excelled in the Champions League, with three goals and two assists coming in four games.
However, prior to the international break Depay was substituted at half time during a listless display in the 3-0 defeat to Arsenal. The 21-year-old remained out of contention for United's trip to Everton and looks set to miss the upcoming Champions League group match against CSKA Moscow.
Van Gaal has warned his fellow countryman that a continuation of his uncertain form could see him offloaded in the summer in the same ruthless manner that saw Di Maria and Falcao discarded after one season last summer. Di Maria joined the club for a British record fee from Real Madrid but failed to make an impression while Falcao scored just four times during a limp campaign.
"Some players cannot adapt to the team philosophy," Van Gaal told reporters after United's win at Goodison Park, according to Sky Sports. "That you cannot know in advance. You have to see that. Because you see a lot of qualities in a player, but Depay has to put that quality in service of your team.
"That also happened with Di Maria and Falcao – both great players but you have to fit in with the philosophy. Not only with Memphis, with every player that we have bought."
On the possibility of Depay remaining on the bench for the visit of CSKA, the United boss added, according to The Mirror: "[My selection] is dependant on the game plan, it is dependanton the qualities of the opponents, which players I want to select for the line-up and also dependable on the defeat of the Dutch team. Now they have played very well, so I am not stupid, I won't change too much on Wednesday."