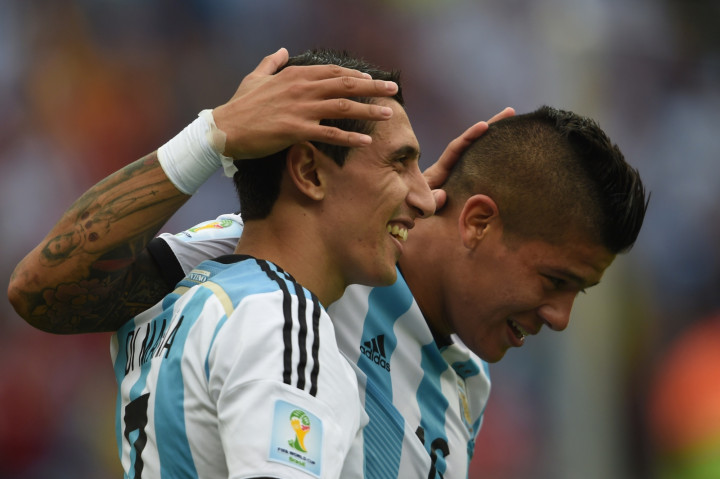 Manchester United manager Louis van Gaal admits his plans to address the club's poor second-half performances have been disrupted by the international break – which will see both Marcos Rojo and Angel Di Maria make a 12,000-mile round trip for two friendly games.
The Dutchman is keen to address a noticeable drop off in his side's performance levels that has become a problem in recent games against Everton, West Ham United and Leicester City.
Under Van Gaal, United have failed to register a goal beyond the 62nd minute of a match this season.
This emerging pattern has not been helped by the injury crisis at Old Trafford that has severely limited the manager's options off the bench. With 14 days until their next league game, the United boss will be hopeful a break away from club football will allow the spate of injuries to subside, with eight members of the first team still recovering from knocks.
However, Van Gaal is wary of the risk posed by players representing their countries over the coming weeks.
Radamel Falcao and Antonio Valencia have both been called up for friendlies with Colombia and Ecuador respectively taking in place in North America, while Dutch duo Robin van Persie and Daley Blind travel to Iceland on 13 October for the Netherlands' European Championship qualifier seven days before the visit to West Brom on 20 October.
But it is the involvement of Argentina duo Rojo and Di Maria that concerns the United manager. Both players will travel to China for a friendly with Brazil on 11 October before heading to take on Hong Kong three days later and are unlikely to return to Carrington until late next week.
While Van Gaal appreciates the international commitments his players have, he admits he is concerned about the adverse effect such lengthy journeys could have on his players.
"We have to train but now all my players are gone," Van Gaal told a press conference after the 2-1 win over Everton. "The rest are injured so we cannot train. Now I have to wait.
"Di Maria and Rojo are coming back from Hong Kong. They are playing two friendly games. They are coming back with jetlag so I cannot train at once and then I have to wait.
"Then I have only two or three days before the game with West Bromwich Albion. That is my problem I know and we live in this football world. I was also a national team coach but it is not as easy as everybody thinks."
Injured England internationals Chris Smalling and Phil Jones will have the chance to work on their fitness over the next two weeks while Juan Mata's omission from the Spain squad will leave him fresh for the visit to the Hawthorns.