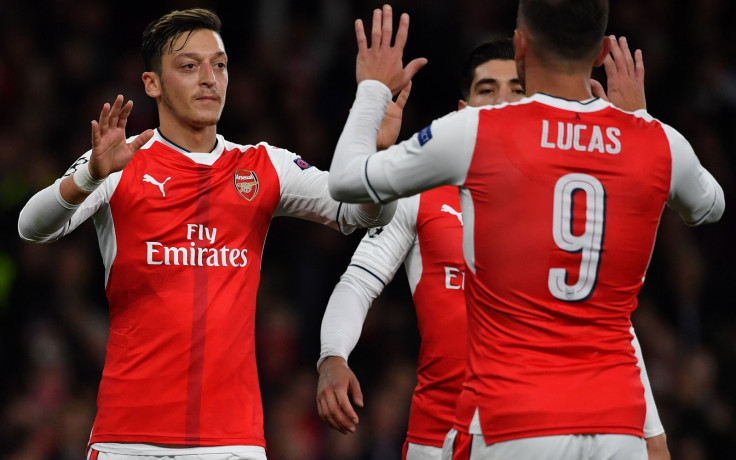 Lucas Perez is enjoying his time at Arsenal even though the good form of Alexis Sanchez and Theo Walcott has restricted his opportunities since his summer arrival from Deportivo la Coruna. But the Spaniard revealed that Arsene Wenger has expressed his full confidence in him and is convinced he will have the chance to prove his worth at the Emirates Stadium sooner rather than later.
The 28-year-old striker started in the 2-1 victory over Southampton in September before scoring a brace in the EFL Cup tie against Nottingham Forest. However, and despite Olivier Giroud's absences due to injury, he barely played since as Wenger opted to give Sanchez the Arsenal number nine role in the following four victories over Chelsea, Basel, Burnley and Swansea.
But the Spaniard refused to give up and took a second-half opportunity against Ludogorets to prove his credentials by giving Mesus Ozil two assists to help Arsenal secure a comfortable 6-0 victory. Lucas hopes his performance can serve as a springboard for the coming games but is not concerned about his lack of playing time as Wenger has already told him that more opportunities will come.
"The coach told me to be quiet because he trusts in me," Lucas told IBTimes UK after the game. "He says that he has been following me for a long time and that he likes me so I have to be patient. He said that opportunities will come and today he has proved it. He is a good guy and is always there to help us."
"When I came to Arsenal I knew where I was coming. I know there are great players here. I have to wait for the opportunity. Everyone wants to play, but the important thing is the team and we have won seven games in a row."
Yet, Sanchez is flying up front this season in the number nine while Walcott has also appeared to regain his best form during Arsenal's impressive good run after having scored seven goals in the last six games. Lucas is sure that there will be playing time for everyone as he can play both as the number nine or even on the flanks.
"Where I enjoy the most is up front because it's where I've been playing in recent times but I can adapt to any position in the attack. I am here for every time the manager needs me," the Spaniard said.
"When you arrive at a new club it's obvious that you have the enthusiasm and the desire to prove your worth. But this is Arsenal and there is much competition, those who are playing are doing well. We have had seven wins in a row so it is normal that the master is trusting in the same players. The most important thing is to be ready to do my best when I have the chance.
"I am very happy at the club, in the city and my family is also very happy. It's a little cold here but it's a very nice town and there are many Spaniards."