Leeds United striker Luciano Becchio has submitted an official transfer request after negotiations over a new contract broke down, the club have confirmed.
The Argentine forward is the current squad's longest serving player and has netted 86 goals in 221 appearances for The Whites over five seasons at the club and is The Championships' fifth highest goalscorer this season.
Becchio, whom two bids from unnamed foreign clubs have been rejected in the January transfer window, has 18 months to run on his current contract at Elland Road but talks over an extension have broken down after the two parties were unable to agree terms.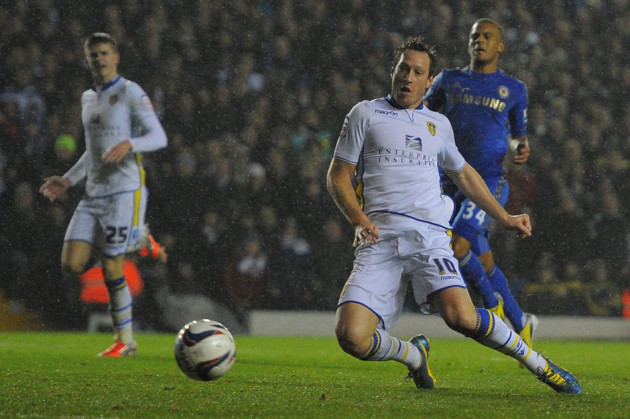 "Luciano Becchio, who has been the subject of two separate bids from foreign clubs during the January transfer window, has handed in a transfer request to the club, as financially he believes his best interests are served by a move away from Leeds United," a club statement read.
"Both bids have been rejected and the player will only be allowed to leave in the event that an acceptable offer is received.
"The club have sought to agree the terms of a new contract with the player, who is already the highest earner, but the requested terms were beyond a level that we could support, particularly in view of the regulations relating to Financial Fair Play that will be effective in coming seasons.
"It is disappointing that this situation has occurred when he is under contract until 30th June 2014."
The club's new Dubai-based owners GFH Capital revealed upon taking over Leeds in December that financial risks would not be taken in order to deliver promotion back to the Premier League for the first time since 2004.
Manager Neil Warnock last week admitted discussions were on-going over Becchio's immediate future at Leeds, who are 11th in the Championship, five points adrift of the play-offs.
The 29 year old has been linked with a move to Wigan Athletic and was reportedly spotted in the crowd during The Latics' FA Cup third round replay against AFC Bournemouth last week, after being left out of the Leeds team that faced Birmingham City on the same evening due to illness.
Wigan boss Roberto Martinez has already played down a move for Becchio in January.
"I don't think so," Martinez said. If he was I didn't know about it. "I am not going to mention any names.
"We are looking for the right player, somebody that can help us. But the focus is on the players we already have here.
"I will never go into a position of mentioning names of other players that are involved with other football clubs. I don't think it is respectful. I don't like it when people do it about our players in the middle of a season and I would never do that."