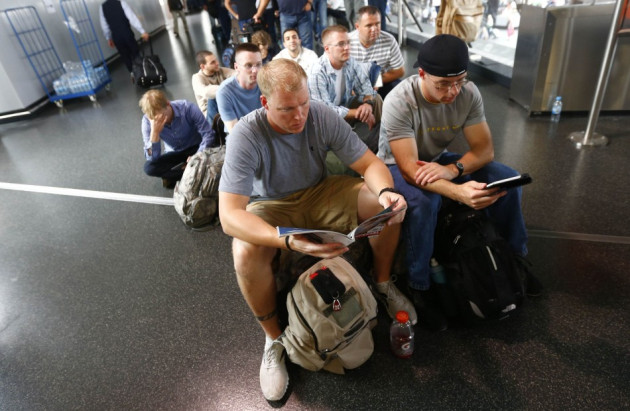 Lufthansa's cabin crew staged an eight-hour strike following a wage dispute, forcing the carrier to cancel more than half of its scheduled flights and leaving passengers stranded over a holiday travel weekend.
Travellers from Frankfurt to the rest of Europe as well as from various cities in the US, Tel Aviv and Chennai in India were affected as the airline dropped 207 of its 360 flights for the day following a walkout by the trade union Unabhaengige Flugbegleiter Organisation (UFO).
UFO is demanding a five percent pay hike and opposing the company's current plans, which include using temporary workers and assigning full-time staff in Berlin to work longer hours at the same wages.
The trade union said that the dispute affects around 19,400 employees and warned of further action over the weekend if the issue is not resolved as the airline plans to execute a €1.5bn (£1.19bn) savings plan while laying off up to 4,500 workers.
"It depends a lot on what Lufthansa's response is," UFO head Nicoley Baublies told Bayerischen Rundfunk radio, warning that the action could go nationwide if the airline does not meet the union's demands.
Zurich-based Credit Agricole analyst Peter Oppitzhauser told Bloomberg that a full day strike at Frankfurt airport would set Lufthansa back by €6m Euros (£4.7m) and €12m (£9.5m) a day if it is expanded to the whole of Germany.
Lufthansa, which operates around 1,800 flights daily, is already battling weak passenger demand and the global economic slowdown amid competition from low-cost carriers.
"The fear is that this conflict goes on indefinitely because the negotiation positions seem very far apart," Jochen Rothenbacher, an analyst at Equinet Bank AG, told Bloomberg.
"Lufthansa has to cut costs, that is clear because of the market conditions, and the union is of course opposed to it."
Passenger queues at the airline's counters at Frankfurt airport stretched over 100 metres as concerned travellers tried to rebook their tickets. Most parts of Germany are on summer holidays while some regions go back to school on Friday.