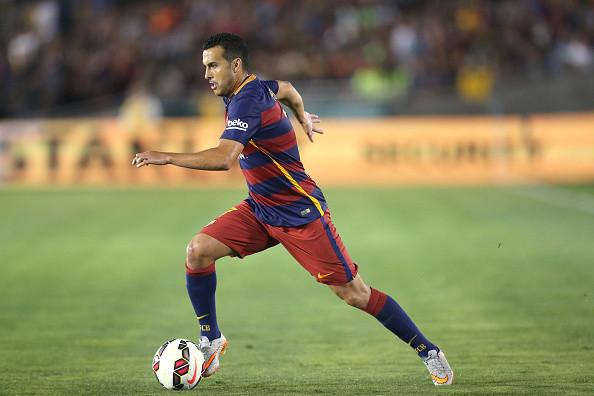 Barcelona manager Luis Enrique has called Pedro's situation at the Nou Camp a "contradition", amid speculation linking the 28-year-old forward with a move to either Manchester United or Manchester City.
Pedro's future at the club has come under significant scrutiny in recent days amid a variety of uncertain messages sent by the club and the player himself.
Barca's new sporting director, Robert Fernandez, claimed that Pedro did not start in the side's 5-European Super Cup victory over Sevilla because he had asked the club to leave during the summer.
Mundo Deportivo reports that Barcelona club have received offers from both United and City to secure the services of the player.
The Catalan newspaper claimed Louis van Gaal's side's offer is worth £17.7m ($27.8m) plus add-ons, while City's is a verbal offer that reaches his £21m release clause.
However Pedro has now denied the claims of Fernandez: "I've not said what Robert's said, or at least not how I said it.
Asked whether he really does want to leave the club, he gave an evasive answer: "The answer is no but it's tricky because of many things.
"It's not about money, as has been said, which also shows a lack of respect. It's a question of continuity, of getting minutes, I'm an ambitious player. Whether I stay or go I'll always be part of this team."
And now Luis Enrique has said that Pedro's desire to play but play more minutes is a contradiction – as as Lionel Messi, Luis Suarez and Neymar are ahead of him in the club's pecking order.
Asked about whether Pedro will play in the Spanish Super Cup first leg against Athletic Bilbao on 14 August, he was quoted by AS saying: "Nobody knows.
"I do not make decisions based on the transfer market. He did not play as a starter [in the European Super Cup] because he withdrew from training a few days before, his position is an unusual and difficult one.
"His situation is a contradiction because he wants to stay but he always wants more minutes. I'll continue to use the players I deem best to face each particular game. I'm looking forward to the end of the transfer window for everything to be decided.
"He's the same as he's been throughout the pre-season. As usual his level of work is very high. We know his position is a special and unusual one but for the time being nothing has happened since the start of pre-season."