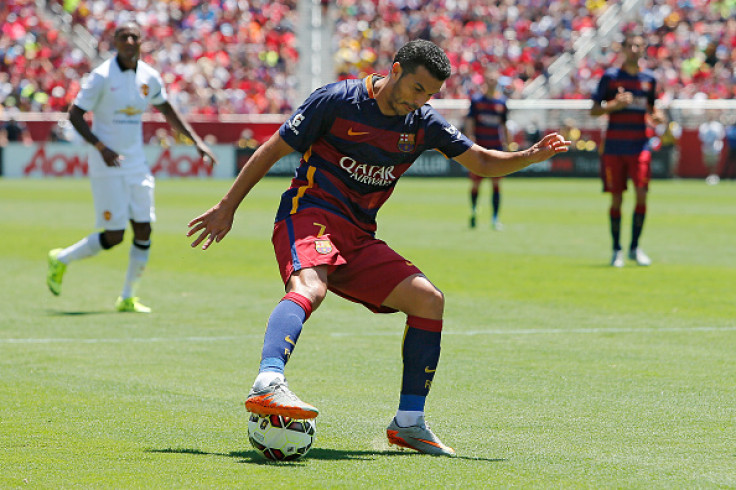 Atletico Madrid striker Fernando Torres believes that Barcelona winger Pedro Rodriguez has all the qualities to thrive at Manchester United.
The 28-year-old has been heavily linked with a move to Old Trafford after recently revealing that his situation at the club is currently complicated. The winger, who has spent the major part of his career in Barcelona, refused to rule out a move to Manchester. The 28-year-old scored the winner in Barcelona's 5-4 win over Sevilla in the European Super Cup on Tuesday (11 August), which could be his last game for the Spanish Champions.
Manchester City are also interested in signing the player and are willing to challenge the Red Devils for his signature, according to the Mundo Deportivo. Manuel Pellegrini has earmarked the player as a replacement for Edin Dzeko, but is holding out for a more physical presence up front to complete his attack.
Torres, who spent the major part of his prime years in the Premier League with Liverpool and then with Chelsea insists that the Spaniard will not find it difficult to adjust to life in England and will be a major hit at the home of the 20-time English Champions. The winger is being brought in as a replacement for Angel di maria, who signed for Paris Saint-Germain earlier in the window, after failing to live up to expectations in England.
"He is a good friend, and if he decides that England is the next step in his career, I am sure he will do very well there," Torres told the Mirror.
"He has all the ability you would expect from a player who has been at Barcelona for so many years, but also he has a great work ethic.
"He works hard, he will help defend, he won't be bullied, he has everything to succeed in the Premier League.
"I think he will find it very hard to leave Barcelona, but I understand as much as anybody how important it is to be playing regularly — especially once you reach a certain age. You need to be at a club where you are playing a lot of football," he added.