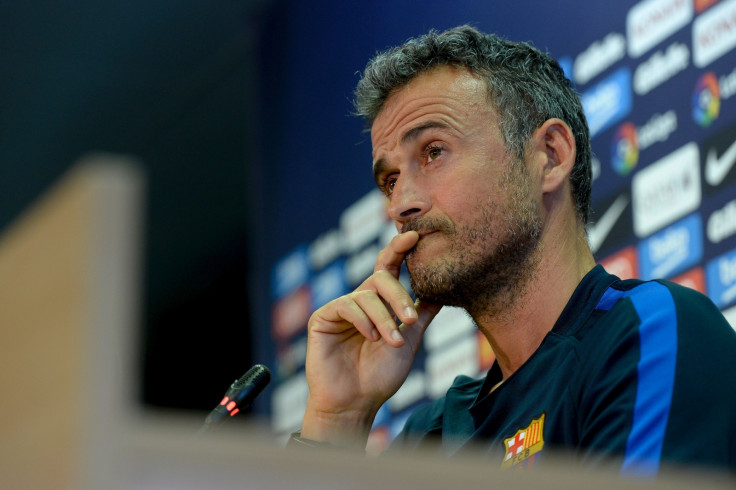 Barcelona manager Luis Enrique has urged the Camp Nou to help his side to reverse a 2-1 deficit in the second leg of the Copa del Rey last 16 match against Athletic Club Bilbao on Wednesday night (11 January). The boss also played down concerns about the recent form of his side, despite the Catalans being yet to win a game in 2017.
Luis Enrique's side began the year with defeat to the Basque side in the Copa del Rey before being held to a 1-1 draw by Villarreal in La Liga at the weekend.
The results have delivered severe knocks to their chances of regaining Spain's two main club titles. The Catalans need to beat Athletic at home on Wednesday to go to the quarter-finals of the cup. Elsewhere, they are already five points behind Real Madrid in the league despite Los Blancos having a game in hand.
But Luis Enrique is convinced his side can turn things around against Athtletic after Lionel Messi scored a second-half goal in San Mames to reduce the gap and give his team crucial hope for the second leg.
"We must make the Camp Nou a decisive factor," the Barcelona boss said in a press conference ahead of the game. "The fans' support is vital and I hope they come in huge numbers to give us the backing we need. We're going into the game a goal down, but the fact that we scored in the first leg has given us the confidence we need to get through the tie."
"I consider fan support to be vital. There has to be a certain level of pressure created in the atmosphere and I am convinced we'll see an attendance in keeping with the level of this tournament. If we score a goal we'll be ahead on aggregate and Athletic will have to take risks. That will make the game and the tournament all the more attractive."
Luis Enrique believes his side arrive to the game in good form, despite recent results.
"Yes, I have an explanation [to the recent setbacks] but it is a cliché: football is like that. Football is a wonderful sport. It is very difficult to have the good stats we had against a top rival like Villarreal. We were good but we need be effective in the last few yards. Football is a sport in which a team that generates very little in the way of chances can end up winning the game," Luis Enrique said when asked what's currently wrong at his side.
"But that doesn't mean that we won't try to improve. We are thinking about creating more chances and being more clinical, but I can't reproach my players anything about the last two games."
"We have to be very effective, very precise, and improve our percentage of getting out with the ball and beating their pressure. When we beat it, we were able to find space behind their defence and create scoring chances."
Gerard Pique has voiced his frustrations over the standard of La Liga referees following recent results, with Barcelona not receiving anything for strong penalty shouts in both games.
But Luis Enrique said: "Whatever Pique says is his opinion. He's an adult and knows what he has to say, or what he should say, and nothing else. I'm happy with Pique the player, Pique the professional. He's a key player for us. Everyone has their own way of expressing themselves.
"It's easy to complain about this or cry about that, but most difficult thing is to protect the players and your team. I don't listen to all these other things that go on in the background. There's nothing to criticise the club and coach for."