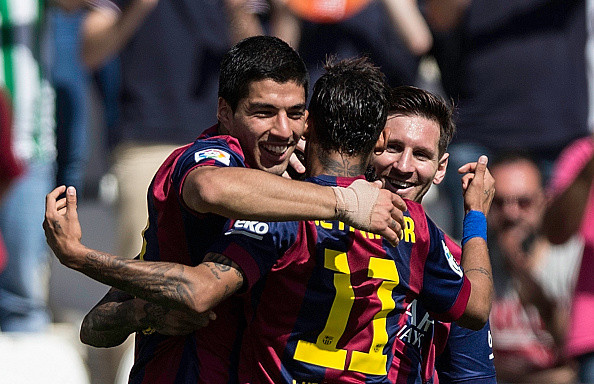 Former Liverpool star Luis Suarez said he is enjoying life more than ever at Barcelona because having the likes of Lionel Messi and Neymar around lets him play "without the pressure" he had at Anfield. The Uruguay international, nevertheless added that during his time on Merseyside he felt he was always the first to be blamed by the critics when his former side did not play well.
Suarez decided to end to his time at Liverpool in the summer of 2014 to move to Barcelona in a deal worth about £65m ($99.m) after scoring 31 Premier League goals in the 2013-2014 campaign. The 28-years-old striker struggled to adapt to the La Liga life after missing the first three months of the season due to a ban for biting Giorgio Chiellini during the 2014 World Cup but eventually became one of the Champions League winners' star players, forging a lethal attack with Messi and Neymar. The former Liverpool star indeed ended the campaign with 25 goals and 23 assists in 42 appearances, including one in the Champions League final against Juventus and as well a winner during the La Liga Clasico with Real Madrid.
Asked during an interview with La Vanguardia what he likes the most about playing for Barcelona, he said: "Coming to pitch and enjoying it."
"I did it before but in a different way. Today I do not feel as much pressure as I felt in other teams. There are other players that stand out more than me and not everything depends on me. That allows me to be more calm.
"At Liverpool, even without anyone demanding it of me, I forced myself to do things to help the team to work. When there was a bad game I was always criticized. I took it internally and it hurt me," he said.
"Obviously I can improve further. The most important thing is to have the desire to improve and with quality players around is always easier to do it. You learn a lot just by seeing what they do."
Suarez is still banned from playing with the national team following his incident with Chiellini. He has always admitted his regrets about what happened but insisted the punishment has been excessive.
He said: "I'm eager to play again (for Uruguay) because I will be out of action two years and it is incomprehensible. The punishment is too long because there have been cases of doping which were punished with one or two years. It's like what I did was the same. That hurts."