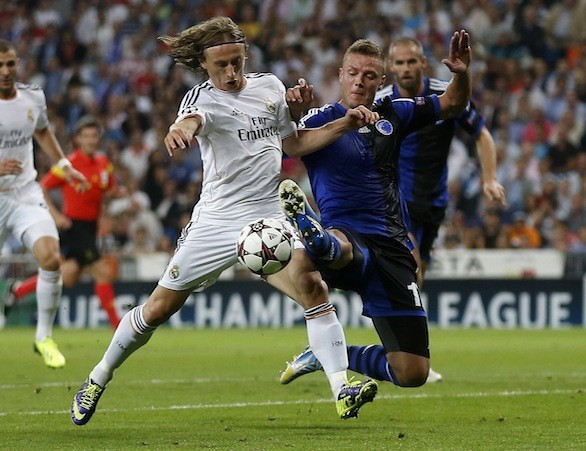 Luka Modric has admitted that Gareth Bale is struggling to replicate his Tottenham Hotspur form at Real Madrid but dismissed suggestions the Welshman has been too selfish on the pitch.
Bale has been under scrutiny since his £91m summer move to Real Madrid last summer with recent reports suggesting he is coming under fire for shooting at every opportunity instead of passing the ball to his teammates.
Cristiano Ronaldo appeared to be frustrated with the Wales international during the recent defeat against Sevilla after Bale wasted a direct free-kick despite the former Manchester United star usually being first in line to take Real's set-pieces.
But Modric has defended his friend Bale, claiming that even though he is yet to hit his peak form, he is not a selfish player.
"Maybe he is not as good as at Tottenham but he is a very important player for us. I do not think he is being selfish. Probably he is the one that has grabbed most assists. He wants to score and he also want to assist. This cannot be a problem," Modric was quoted by AS before the Real Madrid's game against Borussia Dortmund on Wednesday.
"I think Bale is doing very well, helping the team. He has scored many goals and has also assisted a lot."
Bale has grabbed 12 assists in La Liga this season, leading the table alongside Atletico Madrid star Koke.
Despite his critics he has scored 16 goals in all competitions for Real Madrid having also missed missed eight games through injury.
Modric came under similar scrutiny last season as he initially struggled to replicate his best form until later on in his first season.
Bale has already adapted himself to La Liga and in the last game against Rayo Vallecano he proved his worth with a brace and provided another for Ronaldo.
Meanwhile, recently manager Carlo Ancelotti claimed that Bale's wavering perfomances during the season are normal.
"It's true that Bale's performance is up and down, but that's a trait of these players with such ability and speed. They can't be constant like players such as Xabi Alonso. It's not a problem of attitude."