Lukas Podolski Could Receive Offers to Leave Arsenal Before Transfer Window Closes, Says Agent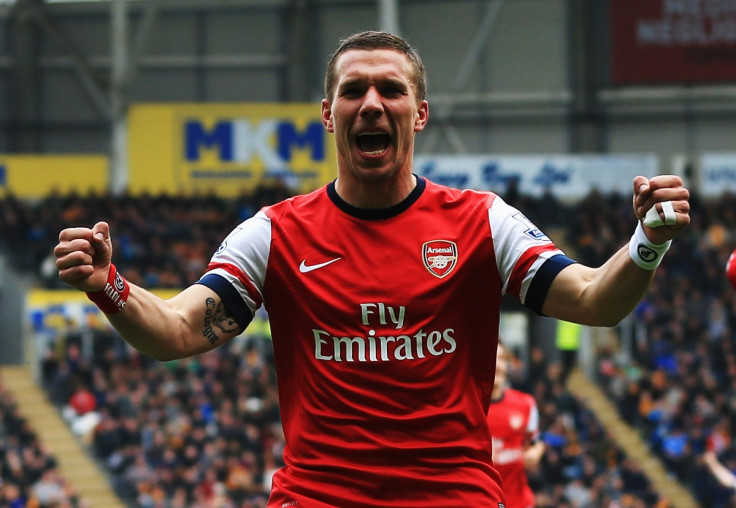 Arsenal forward Lukas Podolski could still leave the Gunners before the transfer window closes, according to the German's agent.
Reports suggest Galatasaray have made their interest in the player known in recent days with unnamed clubs in Spain, the United States and his native Germany also monitoring the situation, according to Bild.
With the arrival of Alexis Sanchez, the return of Joel Campbell from his loan spells away and with Theo Walcott also to return from injury, Podolski's future at the club has come under scrutiny again.
The 29-year-old has frequently been linked with a return to his homeland since arriving in north London in 2012 and his agent insists something could yet happen in the remaining 12 days of the transfer window.
"There have always been questions," Podolski's agent Nassim Touihri was quoted as saying by Bild. Now we have concrete interest of some teams."
But he added: "Lukas still feels well in London."
At the beginning of the summer, Podolski hinted that he would be open to a return to boyhood side Cologne. The club celebrated their return to Germany's top flight at the end of last season and the Gunners striker suggested at the time they would be the only club he would return to in the Bundesliga for what would be a third spell.
However, Arsenal manager Arsene Wenger is likely to want to retain his current squad and has indicated he is open to making further additions if the right opportunity comes along.
"We have the players we want but we are open as well to any opportunity until the end of the transfer window, who can strengthen our defensive department in quality and number," Wenger told the club's official website.
"I can't tell you how likely I am [to make a signing], I just said I am open to doing it. It has to be linked with the needed quality.
"If you ask today the 20 top clubs in the world what they look for, they all look for the same positions. That means it is not necessarily out there."
© Copyright IBTimes 2023. All rights reserved.