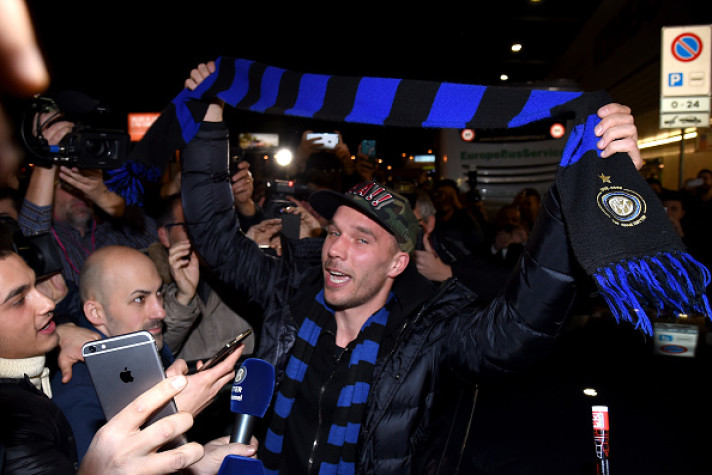 Lukas Podolski wants to lead Inter Milan back to their glory days after ending "a great time at Arsenal", he revealed during his presentation as a Serie A player.
The Germany international moved to the Emirates Stadium from Cologne in the summer of 2012 for around £11m and quickly became an important player for Arsenal manager Arsene Wenger.
But following the arrivals of Alexis Sanchez and Danny Welbeck last summer, the forward saw his playing time limited, with him failing to start a single Premier League game during the first part of the current campaign.
Although Wenger urged him to stay, Podolski forced a move away and on Monday 5 January, the Gunners confirmed his loan move to Inter Milan until the end of the season.
Even though he had limited playing time for Arsenal, Germany manager Joachim Low kept his trust in Podolski for the recent Euro 2016 qualifiers. Now, the forward has revealed the World Cup-winning boss influenced his decision to leave the Gunners.
"I spoke with Joachim Low about my move to Inter and we think it could help my job for the national team," the Germany international said during his presentation as an Inter player.
"I had great time at Arsenal. I want to thank the fans and the club."
Juventus and a selection of Bundesliga sides were also said to be interested in Podolski's services.
When asked about his decision to join Inter, he said: "I had other offers but the relationship with Mancini was decisive for my decision.
"Inter are perceived as one of the top 10 clubs in the world. They have huge success in their past and the treble wasn't too long ago [2010].
"Also, Serie A is one of the most prestigious leagues. The Premier League and Bundesliga have rebounded, and are ahead at the moment, but Serie A has great teams.
"I think Inter are a great team and I want to help them to the highest honours. When I arrived, I received a world-class welcome; it was a unique thing and I'm proud. Then I saw my shirt with the legendary Inter badge on it and became even more proud."
Meanwhile, the German star appeared to send a message to Wenger, highlighting his favourite positions – while the French boss usually deployed him in other areas.
He said: "The position where I feel more comfortable is number 10 or striker."