Arsenal striker Chuba Akpom explains plan to get into the first team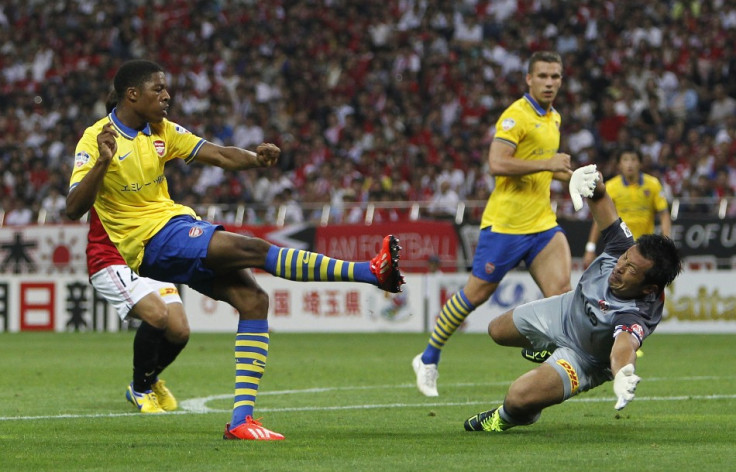 Arsenal striker Chuba Akpom has revealed that he wants to impress the boss if given a chance and make a place for himself in the Arsenal first team.
The 19-year-old made the bench against Southampton and came on as a second half substitute but failed to make an impact as the Gunners lost the game 2-0. The striker revealed that he is hungry to make his presence felt and insists that he is working hard to make his dream a reality.
The youngster is likely to make the starting line-up for the game against Hull City in the third round of the FA Cup and chances like these are where he has to prove himself amid competition from stalwarts like Theo Walcott, Danny Welbeck, Yaya Sanogo and Olivier Giroud for a first team spot.
"I'm really feeling part of the team. I'm starting to train with them a bit more and I'm getting more of a feel about how it is to be on the bench," the striker told www.arsenal.com.
"I'm just dying to get on every game and every minute counts. I try my best to make the most of each opportunity that I get, so when I went out there I just gave 100 per cent.
"Every game I'm hoping to get an opportunity. I just want to play. I'm hungry for it now. I want to show the boss what I'm made of and I think that I'm ready. I think I can have a good impact on the team. Hopefully I get a chance," he added.
Akpom reminisced about the game against the Saints where he wanted to get in behind the defenders with his blistering pace and press the keeper but failed to live up to his ambitions.
"You've just got to stay positive. I was just thinking, 'How can I help the team?' I tried to make as many runs as I could in behind, press the keeper and the defenders. I was hoping to come on and try to get a goal for the team but it didn't work out," he continued.
"We have to forget about this game. We've been playing good football and it was an unfortunate result. The lads are a bit down but we just want to move onto the next game and see what happens."
© Copyright IBTimes 2023. All rights reserved.