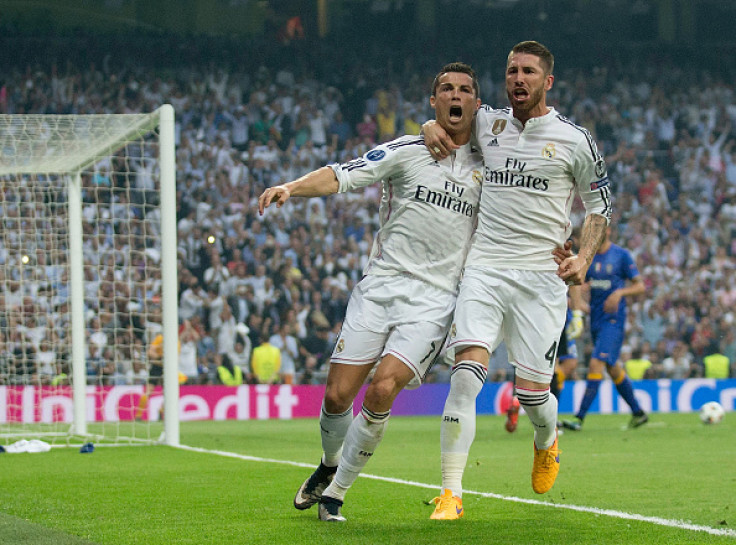 Louis van Gaal has ruled out a Manchester United move for Real Madrid star Cristiano Ronaldo.
The Portuguese international spent six seasons at Old Trafford before joining the Spanish capital club in 2009. The Manchester Evening News had reported the Red Devils were preparing to re-sign the Portuguese international on a club-record deal this summer.
However, the Dutchman has ruled out any potential move for the three-time Ballon d'Or winner, who still has three years left on his contract with his current employers.
"He may come. But it is not possible. Yeah, of course. But that's not possible. Why not? Because you have the club, Ronaldo and then you have Manchester United and how much Manchester United want to spend," Van Gaal said, as quoted by The Telegraph.
United allowed Robin van Persie, who had a successful campaign with Netherlands during the 2014 World Cup, join Turkish outfit Fenerbahce.
The former Barcelona and Bayern Munich manager hinted the Dutch international's role in helping the Red Devils finish in the top four last season was minimal, which forced him to let the striker leave Old Trafford.
"That is also a process. It is what we have experienced in the whole season with each other. You have to oversee all the aspects," the United manager explained.
"People have written that Van Persie is my favourite player and that I protect him and yes maybe I have done that."
"But in the end you always have to evaluate which players have contributed to our fourth place which players a little bit and which players no contribution and then you make decisions but you make decisions on facts and not on other things."
Van Persie's exit has left Van Gaal with Wayne Rooney and James Wilson, along with Javier Hernandez as the three first choice strikers in the squad. The Dutchman admitted that United are working on bringing a striker to the club in the ongoing summer transfer window.
Van Gaal has also revealed United are looking to sign a marquee player to add more creativity to the squad. The 20-time English champions have already signed Memphis Depay, Matteo Darmian, Morgan Schneiderlin, Bastian Schweinsteiger and Sergio Romero, who became their latest addition of the summer.