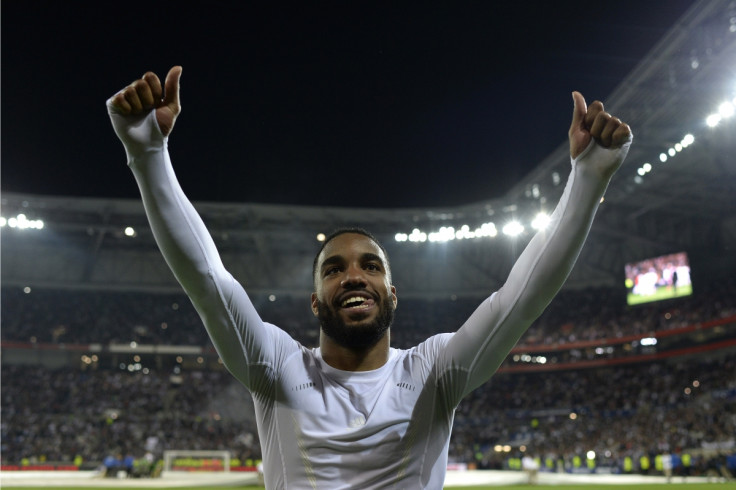 Tottenham Hotspur and West Ham United have both been encouraged ahead of a summer pursuit of Lyon striker Alexandre Lacazette after the France international revealed he was considering his future at the Ligue 1 club. The 24-year-old has scored 21 league goals this term and has been heavily linked with a move away from Lyon, who are currently 17 points adrift of runaway champions Paris Saint Germain.
Lacazette is expected to be one of the stars of France's European Championship campaign on home turf, and in the absence of Karim Benzema is in line to lead the attack. Nevertheless, with PSG set to dominate French football for the foreseeable future and Lyon likely to play second fiddle he has likely already fulfilled his potential in the domestic game.
Both Tottenham and West Ham have already turned their attention to next season, with their domestic campaigns all but over. Mauricio Pochettino's side are assured of a top four finish and must avoid defeat to Newcastle United on the final day to secure second place in the Premier League behind champions Leicester City.
Following victory over Manchester United, West Ham can finish no lower than seventh which could yet be good enough for a Europa League place – a carrot which could be crucial in bringing new players to the club. The Evening Standard understand both Tottenham and the Upton Park club are keen on a move for Lacazette this summer, with Juventus also among the interested parties.
Those attempts have been boosted by a revelation from Lacazette that he is contemplating life after Lyon, less than a month before the transfer window officially opens. "Will I still be in Ligue 1 next season? I will think about it," he told Canal +, according to The Evening Standard. "I need to take good decisions. I am very happy at the club. If there is better elsewhere, then I will see. I am happy at the club, but we will think about it."
Lyon owner immediately quashed Tottenham and West Ham's hopes of landing the forward, claiming: "It is 80% likely that Lacazette stays. Lacazette is a big boy, so am I. We will not have a repeat of what happened last summer."
West Ham co-owner David Sullivan has confirmed the club have made a bid of £23.7m [$34.27m] for an unknown player from France, raising the possibility of the player joining the club at the Olympic Stadium.
"We are hopefully going to bring one or two top players in. The Olympic Stadium gives us about £12m extra revenue a year, but not £100m," Sullivan told Sky Sports. "We put in a bid today for €30m (£23.7m) for a player and other bids will be going in. We are going to make a £20m or £25m bid for a player in England this week.
"So whatever happens, we'll bring a top striker in. It's a statement of intent. We'll spend between £30m-£50m on transfers this summer. But you've got to build it up gradually. You can't compete with the likes of Manchester United overnight."