Marks and Spencer's chief executive Marc Bolland will come under renewed shareholder pressure after the British retailer reported its eighth successive quarterly drop in like-for-like sales of general merchandise.
Owing to difficult trading conditions, M&S revealed that sales of non-food products, including clothing, footwear and homewares, dropped 1.6% in the 13 weeks to 29 June 2013.
However, the group's quarterly sales were boosted by growing demand and sales in the international markets, such as China, India and the Middle East. Stronger food sales within the UK also lifted quarterly sales.
Group sales rose 3.3% in the first quarter to 29 June, on a constant currency basis. International sales rose 8.7% during the period.
Total UK sales for the quarter rose 2.7%, just as food sales rose 4.7%.
In terms of outlook, the company said it remains cautious for the rest of the year due to challenging business conditions, such as the macro-economic situation in some parts of Europe. However, M&S said that the region's sales performance has started to stabilise in some areas.
"Our general merchandise business showed some improvement this quarter and the food business delivered another excellent performance, continuing the strong underlying trend," chief executive Marc Bolland said in the statement.
"Our International business also performed well during the quarter and M&S.com sales were very strong. We continue to make good progress with our plans to transform M&S into an international, multi-channel retailer."
M&S.com reported a 30% jump in online sales. The company said it is on track to roll out a new Web platform in the spring of 2014.
M&S's stock was trading 1.72% lower at 9:48 am in London. The company will put out its half year results on 5 November, 2013.
M&S's profits have fallen for two consecutive years. Pre-tax profit for the fiscal year ended 30 March, 2013 was £564m (€667m, $858m), down from £658m in the previous year.
Pressure for Bolland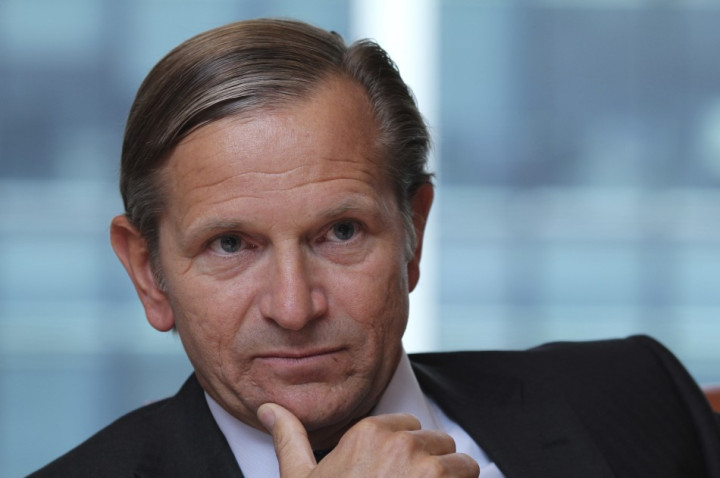 Bolland will face shareholders, who are angered by two years of falling profit, at the firm's annual general meeting at London's Wembley Stadium later today.
He is also set to fight for his whopping £2.14m pay packet for 2013 - including a bonus of £829,000 - even after his admission that the high street retailer is underperforming.
Bolland is under pressure to revive M&S's clothing business and has previously assured that the company would focus on better quality and styles in women's wear. He also pledged to deliver more compelling and clearer sub-brands.
The autumn/winter ranges start hitting the shops in late July and are considered as crucial for the company's new general merchandise team. John Dixon, the former boss of M&S's food business and former CEO of Debenhams and Jaeger, Belinda Earl are charged with leading the cause.
M&S shares have surged 30% over the past year owing to periodic bouts of bid speculation. They rose to a five-year high in May as the company's clothing strategy update and autumn/winter ranges boosted investor confidence.