The idea of erotic jewellery sounds slightly like it would involve a penis pendant or perhaps a nude figure but MA student Wan Tseng's latest project Wisp is designed to challenge traditional ideas of eroticism and sex toys with a new range of sensual wearable technology.
The collection created for her final project for the Innovation Design Engineering course, run jointly by the Dyson School of Design Engineering at Imperial, and the Royal College of Art, includes a range of accessories designed to focus on women's sexual desire as well as evoke conversation about female sexuality.
Each device is made from silicone and is created to emulate subtle familiar sensations including breath on your neck or another person's fingertips on your skin when applied to the arms, neck or wrists.
"Sex is still an unspoken issue in many areas" Wan Tseng told IBTimes "in the UK, sex happens behind closed doors, even though it is really happening all around us. The goal of 'Wisp' is to bring up a conversation to shift a taboo to daily topic. Also, it is an education tool for girls to explore their bodies."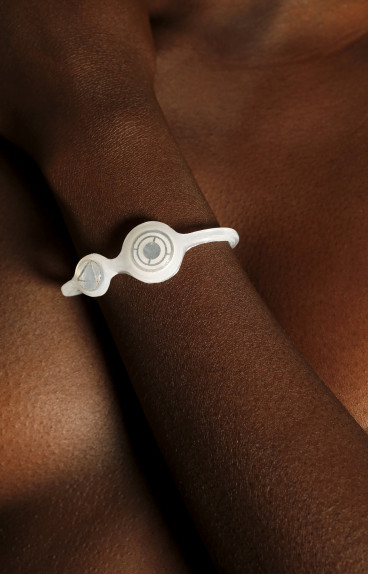 The smart bracelet is one of the most advanced pieces in the collection and monitors the wearer's arousal levels, like an erotic FitBit, and is aimed at helping the wearer learn more about their body, although the bracelet can also send messages to your partner.
Tseng also sees her designs as a more updated version of the traditional sex toy, rather than the overt focus on orgasm and and whilst that is not ruled out, she has focused on the build up of relaxed sensuality instead.
"Looking in the current sex toy market" Tseng says "many popular brands are designed to feature human genitals and might be vibrating or non-vibrating. Almost all the toys are aimed toward reaching orgasm; they are playful and intense. 'Wisp' is designed for a new category that focuses on only the arousal stage."
According to Tseng's research, female's reactions are more complicated than males at the sexual arousal stage and females prefer auditory stimulation over visual stimulation.
"'Wisp' is looking into the new ways of interaction for female sexual arousal. For example, women are easier to arouse by auditory simulation, atmosphere and environmental condition instead of visual effects."
The designs that can be easily placed upon the skin include mini-motors that replicate a light tough of the skin but there are also more sensory pieces as Tseng described including a perfumer and an air blowing mechanism as well as an auditory simulator like someone whispering in your ear.
These devices can also be personalised with your own choice of perfume, the wearer can also link them up to their phone to play music and alter the temperature to their choosing.
With a background in industrial design, Tseng's focus has previously been on items like laptops, but as she told Imperial College "when I started the Innovation Design Engineering course, I wanted to challenge myself, so I picked this unusual and intriguing topic."
The Wisp collection has just been displayed at the Royal College of Art as part of their MA Graduate exhibition so it may be some time before you can get your hands on the wearables.