The first UN aid Trucks sent by the World Food Programme have arrived in the Syrian town of Madaya, which has been slowly starving since October 2015 under a brutal seige by the Assad regime.
Pictures of emaciated adults and children trapped in the beleaguered town just 15 miles to the north-west of Damascus have shocked the world. Forced to survive on boiled leaves, grass and even and domestic pets, the 42,000 people in the Madaya had begun to die as a result of the siege.
The Associated Press reported the first convoy of three UN trucks arrived in the town where groups had gathered to receive the much-needed assistance. Aid is expected to be offloaded in Madaya and the Shia towns Foua and Kfarya in northern Syria, where convoys were also received, throughout the night.
The starvation in Madaya is another nadir in Syria's bloody civil war, now entering its fifth year. Doctors Without Borders said 23 patients died of starvation in the town – the dead included six children under the age of one.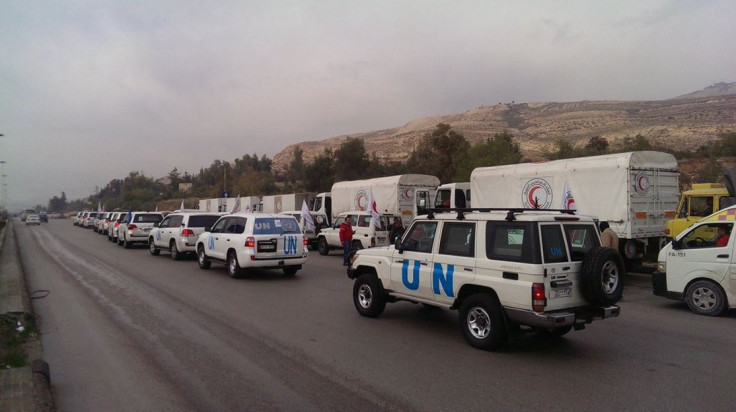 The Syrian government, with the assistance of the Lebanese militant group Hezbollah, has used hunger as a weapon in the town. Unable to take the rebel area by force they have deployed snipers and explosive devices to stop residents from leaving or supplies from arriving. Hezbollah and the Assad regime have claimed leaders in the town prevented inhabitants from leaving.
The much-needed aid was finally allowed to enter in exchange for relief also sent to the pro-government towns of Foua and Kfarya.
The UN's World Food Programme has said it will ship one month's worth of food for more than 40,000 people to Madaya from Damascus, and enough for 20,000 people to Foua and Kfarya from the city of Homs.
The UN supplies were prepared in the Syrian capital, Damascus. The provisions include rice, which costs £170 ($247) per kilo, and medicine.