Madeleine Albright in 'Disgusting Serbs' Outburst [VIDEO]
The Former US Secretary of State Madeleine Albright involved in a verbal altercation with pro-Serb activists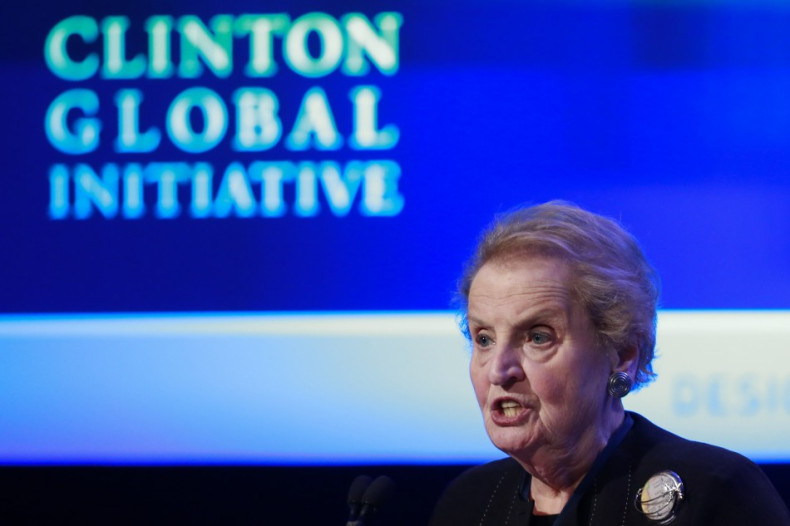 Former US Secretary of State Madeleine Albright called protesters "disgusting Serbs" when they confronted her at a book signing in Pague.
Two videos showing Albright in a verbal altercation with a group of activists contesting her role in the Yugoslav Wars were posted on YouTube.
Prague-born Albright was at a bookstore in the Czech capital to sign copies of her memoir 'Prague Winter: A Personal Story of Remembrance and War, 1937-1948.'
The videos show Albright being approached by members of the group Friends of Serbs in Kosovo, led by Czech film director Vaclav Dvorak, whose movie Stolen Kosovo blames the American-led NATO bombing of Yugoslavia in 1999.
Dvorak approached Albright and handed her a DVD copy of his documentary to sign. At the same time he displayed a poster linking Albright's decision to back Kosovo in the war against Serbia to some of her personal business interests.
A scuffle between the activists and the former Secretary of State's staff ensued.
Albright, visibly vexed, threw a piece of paper at the demonstrators and shouted at them to "get out!"
Then, as someone is heard telling her she is a war criminal, Albright answers back "You're a war criminal," before yelling "disgusting Serbs! Get Out!"
Albright served as US Secretary of State under Bill Clinton from 1997 to 1999. She is unpopular in Serbia since she played a pivotal role in the NATO intervention in Kosovo in support of Albanian separatists against the former Federal Republic of Yugoslavia, led by war criminal Slobodan Milošević.
Earlier this year it was reported by Bloomberg that an investment company headed by Albright was bidding for Kosovo'e state-owned post and telecommunications company.