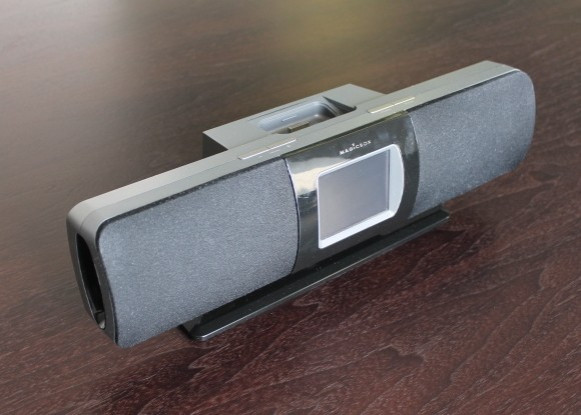 Key Features:

3.5in colour TFT touchscreen display
Audio dock for iPod and iPhone
Internet radio with access to podcasts
RRP price: £179.99
MagicBox Beam Extreme: Overview
Is this an iPhone dock or an iPhone dog? The marketing image on the side of the box (see below) may have you a little confused but we can see why MagicBox chose that.
The picture of a dog creates an emotional response while reminding the person viewing it of the shape of this audio dock. Either that or we have been watching way too much Mad Men.
The speaker dock actually looks like the kind of central piece you might find in a home cinema setup. What sets it apart is the touchscreen in the middle and that extendable radio aerial.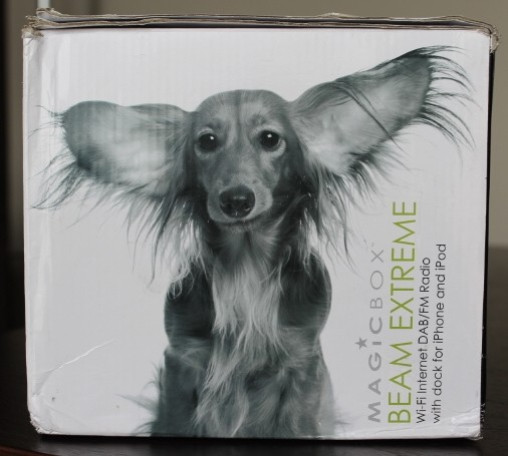 MagicBox Beam Extreme: Screen
The 3.5in colour TFT touchscreen has a Home button at the bottom left for easy navigation. This always returns you to the main options of DAB Radio, Internet Radio, iPod, Alarm, FM Radio, My Music, Aux [auxiliary] and Settings.
The onscreen keyboard is a little hard to use, with miss-keying possible as you try to press those letters positioned near the edge. DAB stations that carry extra information such as news, weather, traffic or song information display that very clearly on the front screen.
The unit's volume can also be controlled on the touchscreen, while also having its own dedicated buttons on the top of the Beam Extreme for easier access.
Adding and editing preset stations is very easy thanks to the clear onscreen buttons. A star with a plus symbol adds the station you are listening to and a full star button shows your list of presets.
Hold your finger down on one of the presets to trigger extra options and move it up and down the list, or delete it.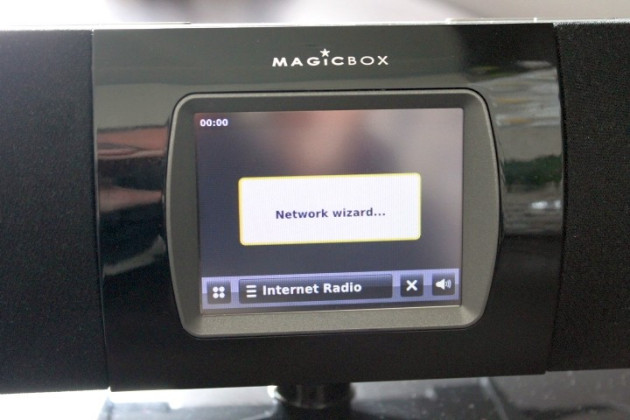 MagicBox Beam Extreme: Internet Radio and Podcasts
The ultimate test of this dock was in a London flat that defies the norm and refuses to receive either FM or DAB radio. As Venkman would say in Ghostbusters, "I guess they just don't make them like they used to."
Since we haven't had a visitation from Gozer in the fridge yet we thought we would try the MagicBox to see if it could succeed where even Roberts' best radio products had failed.
True to form the bad reception (for once we're not fuzzy on the whole good/bad thing) kept it from finding any stations but that is where the internet radio came in.
Tapping in to the Wi-Fi signal, delivered The Archers to an environment previously free of farm-based drama.
Accessing the internet radio also opens up a much wider selection of stations. For example, our new personal favourite is the East Radio Shanghai Story, which often sounds like the raw audio from a movie with high-kicking sound effects, dialogue and all.
With a decent Wi-Fi signal the software works very quickly to access stations or podcasts as soon as you click on them.
The BBC gets its own section bundling all its stations together, and when you click on a station you can choose to listen live or access the online podcasts. So if you want to keep up with BBC Radio Stoke while you're half a world away, you can.
Podcasts can be searched by title and internet radio has a Last Listened onscreen button so you can find that weird station you tuned into next time. Internet radio is also one of the options you can wake up to using the Alarm feature, along with DAB, FM, iPod or a traditional buzzer sound.
You can select how loud it is if you are a heavy sleeper and snooze it like a regular alarm.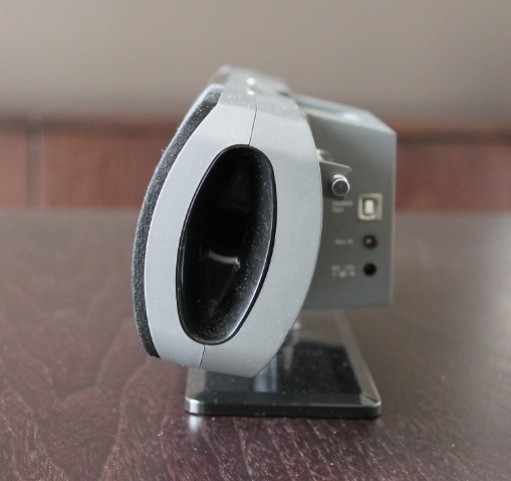 MagicBox Beam Extreme: Sound Quality
The Beam Extreme is a mid-range dock, so while the speaker never reaches the heights of the B&W Zeppelin it easily outperforms budget docks.
The 20W combined speaker output does a good job of playing music from all aspects of the Beam Extreme.
A wide selection of musical types from a range of stations - including classical to dance to bass-heavy rock - showed depth and clarity. In a setting with a decent signal, the DAB signal is crisp and clear, although we found that even the FM performance was still very listenable.
The dock also performed well without distortion even at the highest volume (although the neighbours would prefer you don't crank it that high).
MagicBox Beam Extreme: Connections
Sitting an Apple iPod or iPhone in the main dock allows those devices to be charged. The MagicBox Beam Extreme also recognises when an iOS product has been plugged in and asks if you want to switch over from what you're currently listening to.
A 3.5mm auxiliary jack also allows music or audio from any source to be played through the speakers. A LAN connection adds the unit directly to your network if your Wi-Fi signal is not the best.
There's also a port offering 'Video out', which is a nice idea but in practice the picture quality wasn't great, especially on a larger TV. Best to get a dedicated dock if you are looking to do that.
We got excited at the inclusion of a USB port, as we thought this would allow us to easily play content from thumb drives and perhaps even record to removable media.
However, MagicBox has included the kind of USB port found on scanners and printers before everything went wireless and this is only designed to provide updates for the Beam Extreme.
The inclusion of a memory card slot or somewhere to add a USB key is the only real omission from the dock.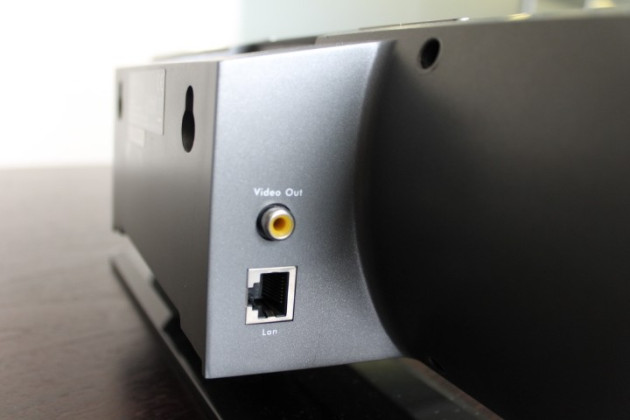 MagicBox Beam Extreme: Verdict
It might not strike you as the most attractive dock you have ever seen when you first get it out of the box but the MagicBox Beam Extreme did grow on us.
The piano black stand adds a touch of class and we preferred using the Wi-Fi for internet radio so we did not have to have that aerial breaking its clean lines. The side-on view is also very appealing.
The sound was also impressive for the price and if you cannot afford the kind of professional docks that start at £350 but do not want a tinny, cheap option at £50, this fits the bill nicely.
That RRP price of £179.99 can be knocked down to £135 with some canny online searching.
Score: