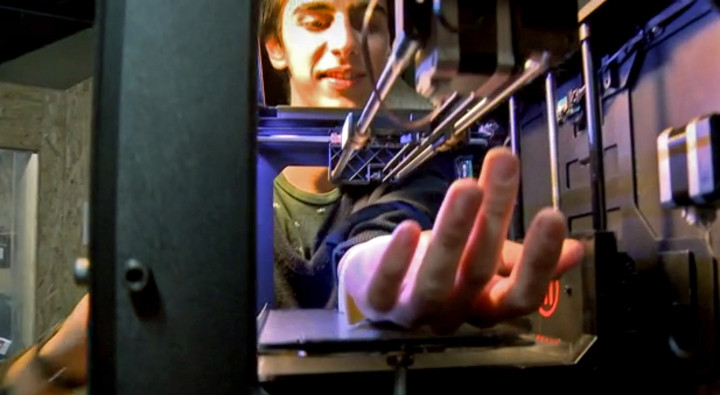 A French design studio has created an automated tattooing machine that could in theory do away with the need for a tattoo artist by combining a 3D printer with a tattooist needle.
The tattoo machine, named Tatoué, uses a MakerBot Replicator 3D printer that has been modified with the usual extruder replaced by a needle and other custom 3D-printed parts. Autodesk 3D CAD software has been adapted to convert tattoo designs into a digital form.
Once a limb is inserted into the printer, ink is pumped out of the needle to draw the requested design directly on to the individual's skin, puncturing the skin at a speed of up to 150 times per second.
Appropriate Audiences, based in Paris, were inspired to build their automated tattoo machine while attending a technology hacker event called "Public Domain Remix" that was organised by the French Ministry of Culture in October 2013.
According to design magazine Dezeen, ENSCI les Ateliers design school students Pierre Emm, Piotr Widelka, and Johan Da Silveira were tasked with hacking an electronic device in eight hours.
During the hackathon, the students succeeded in replacing the 3D printer's extruder with a pen and reprogramming the machine to draw patterns on a person's arm. After the event they decided to form a startup to develop their idea.
At first, the designers borrowed a manual tattooing machine and tested out their process on artificial skin made from silicone. When that worked, they then found willing volunteers and tested out tattooing a circle on a real person's arm (see video above).
"The big difficulty was to repeat the same exercise on a curved surface and on a material that has much more flexibility than silicone," Appropriate Audiences told Dezeen.
"Many tricks were tried to tighten the area around the skin – a metal ring, elastics, scotch tape – but the most effective one was a scooter's inner tube, open on the area to be marked."
Now the team are working full-time to develop more sophisticated automated tattooing machines with advice and feedback from tattoo artists, and hope to eventually be able to create a machine that can tattoo complicated designs on a range of areas on the body.
"The idea of our machine is to give tattoo artists a new tool that offers plenty of new possibilities," the designers said.
"Anything you want can be designed on the computer, and replicated onto the skin. We are still working to develop the software in order to produce something that is more user-friendly, particularly for tattoo artists.
"The next step for us would be to travel and meet as many tattoo artists as possible, in an effort to discover new practices and techniques throughout the world."