Virgin Galactic SpaceshipTwo Crash: 'Descend Function Deployed Too Early in Disaster'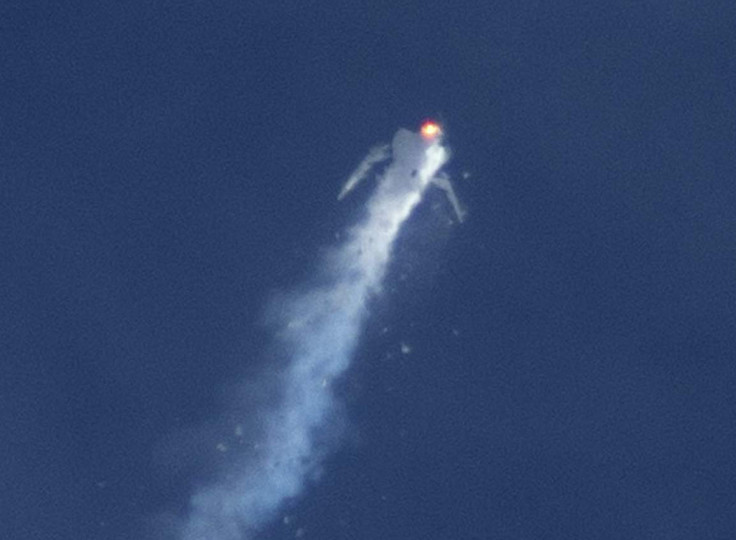 Investigators probing the crash of Richard Branson's Virgin Galactic Spaceship Two claim a piece of equipment designed to slow the craft down was deployed too soon.
Video from inside the Galactic's cockpit, which has been recovered by the National Transportation Safety Board (NTSB), revealed a rotating tail boom was deployed when it was speeding at Mach 1 – the speed of sound.
However, the so-called feathering system should not have been activated until the vessel reached Mach 1.4.
Christopher Hart of the NTSB revealed the descend function was deployed early during a news conference, adding: "I'm not stating that this is the cause of the mishap. We have months and months of investigation to determine what the cause was."
The tail boom essentially folds the spacecraft in half in order to create drag, which acts as a brake during the craft's return from space.
Spaceship Two exploded in mid-air, soon after detaching from a plane high up in the atmosphere during a test flight. It eventually crashed into the Mojave desert in California, killing one pilot and leaving another seriously injured.
Branson was forced into a PR offensive in the wake of the incident last Friday, amid reports wealthy ticket holders could now be deterred from getting on board.
Hart also refused to rule out pilot error, saying. "We are not ruling anything out.
"We are looking at all of these issues to determine what was the root cause of this mishap. We are looking at a number of possibilities, including that possibility [of pilot error]."
Insurance sources have estimated Branson's Galactic craft was insured for up to $50m.
© Copyright IBTimes 2023. All rights reserved.