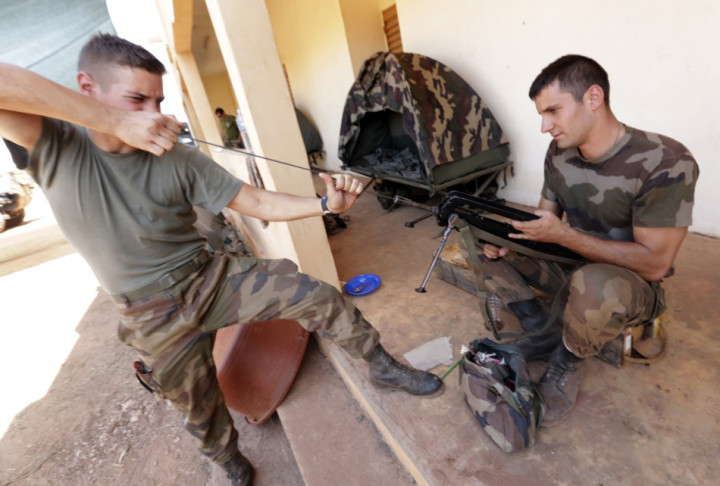 British troops will "categorically" not set foot in Mali to help drive out the Islamist militants who have taken control of parts of the country.
The Foreign Office told IBTimes UK that there is absolutely no chance of a deployment of ground forces to assist efforts by France and a coalition of troops from African countries.
That is despite recognition that the operation will require "assistance" in the coming weeks.
Britain's rebuttal to France and African forces comes after French troops swooped in to save Mali from being overrun by Islamist militants.
Officials involved have called for extra help to drive back heavily armed, hardened fighters swarming over the border from Libya to attack the weak Malian government.
But Britain will continue to say 'no' to putting boots on the ground to aid the Mali mission. British involvement is limited is flying two Globemaster transport planes to supply French forces with weapons.
A Foreign Office spokesman said that Britain is supporting the French ground operation, ahead of an African-led intervention.
But no request has been received from Mali for UK troops, said the Foreign Office.
"The Malian Government remains very grateful for UK assistance in Mali," the spokesman told IBTimes UK
"It is clear, however, that the Malians will require further regional and international assistance in the coming weeks. Establishing the funding arrangements for AFISMA will be critical.
"Discussions in New York will begin shortly, followed by a donor conference in Addis Ababa at the end of January. Detailed proposals from ECOWAS will be central to securing necessary funding from international partners."
Foreign Secretary William Hague took to the airwaves to underline Britain's refusal to intervene with troops in Mali.
Hague told reporters he was uncertain how strongly linked the Mali assault was to the hostage crisis at a gas depot in Algeria, in which at least three Britons were killed.
"I would be cautious about ascribing this to the French intervention in Mali," said Hague.
"Of course that is a convenient excuse. Usually operations like this take longer to plan...
"But we can't be sure about that at this stage... Whatever excuse is being used by the terrorists and murderers who are involved , there is no excuse for this behaviour."