Game-changing 49,000 year-old evidence of the earliest Aboriginal settlement in prehistoric Australia was discovered by a man searching for a toilet. The oldest Aboriginal settlement in existence, known as the Warratyi Rock Shelter was made by chance 340 miles north of Adelaide, in South Australia.
Clifford Coulthard, an elder of the Adnyamathanha, an indigenous Australian people from the Flinders Ranges, was surveying the area when "nature called" and he got out the car. As he stumbled around looking for a suitable spot, he managed to discover a rock shelter in the arid site.
The shelter proved that human settlers were here 49,000 years ago, 10,000 years earlier than previously thought. It also contained the first reliably dated evidence of human interaction with large or giant animals, known as megafauna.
Lead author of the academic research, Giles Hamm, a consultant archaeologist and doctoral student at La Trobe University, in Melbourne, found the site with Coulthard.
"A man getting out of the car to go to the toilet led to the discovery of one of the most important sites in Australian prehistory," Hamm told ABC News. "Nature called and Cliff walked up this creek bed into this gorge and found this amazing spring surrounded by rock art."
Hamm said the pair noticed a rock shelter with a blackened roof, a sign of human activity where people may have made fires. Since that day, nine years ago, Hamm and his team have recovered more than 4,300 artefacts, along with 200 bone fragments from 16 mammals and one reptile.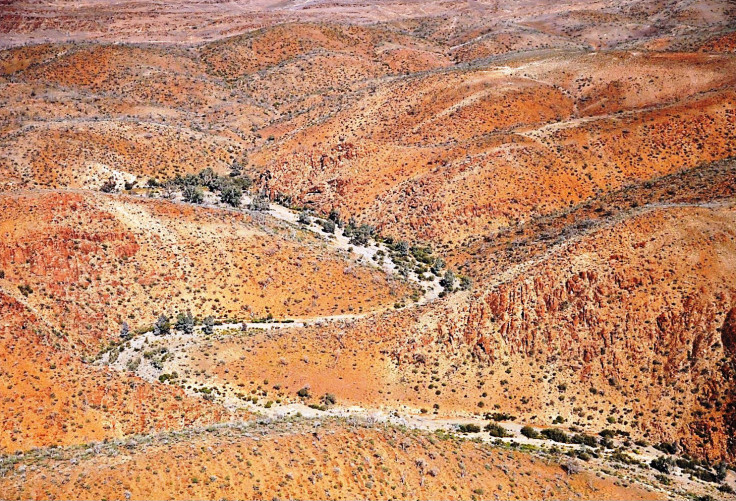 Humans are believed to have colonised Australia around 50,000 years ago, but scientists have debated whether they penetrated the country's desert interior.
Co-author professor Gavin Prideaux also pointed out the important discovery of rare bones from an extinct giant wombat-like creature called Diprotodon optatum, and eggs from an ancient giant bird. Scientists are investigating if humans may have contributed to megafauna becoming extinct in the continent with Prideaux believing that people may have had a lesser impact than previously thought.
"The find undermines one of the supposed pillars of support for climate change, not humans, causing the extinctions because the site shows humans lived alongside these animals and hunted them," he explained.
Before now, the oldest-known site in the huge arid zone that covers roughly 70% of Australia's land mass, dated back to around 38,000 years ago was discovered at Puritjarra in western central Australia.
"This discovery puts people moving south from the northern part of the continent to the southern interior a lot sooner than we thought," Hamm said. "In one sense they were trapped in the Flinders Ranges because once the climate changed [due to the last glacial maximum] it was too risky to move out of these well-watered ranges that had these permanent springs".