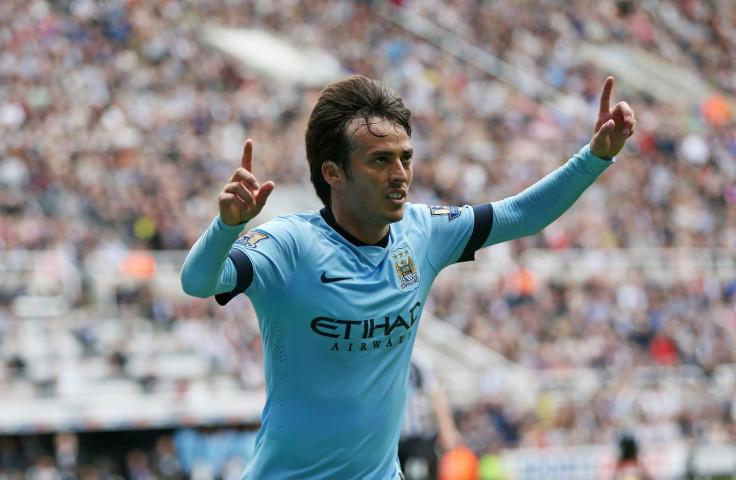 Manchester City have been dealt a massive blow in the injury front with David Silva set to be sidelined for their clash against Tottenham Hotspur this weekend. The Spaniard is also in doubt for their Capital One final clash against Liverpool later in February. The 30-year-old has been playing through a pain barrier in recent weeks to boost his side's title chances but a recent setback has made it very difficult for him to continue in his duties towards the club.
The Mirror reports that the playmaker has been suffering from an ankle issue and City are unwilling to rush him back into the squad, given their experience with Vincent Kompany. Silva's absence would be a major blow given they are already without Kevin de Bruyne for an extended period after the midfielder suffered an injury in the semi-final of the League Cup against Everton. The Belgian is unlikely to be available for the better part of three months and Silva was earmarked to fill the void in his absence.
The next couple of weeks mark an important phase in City's campaign, with their top four clash against Tottenham Hotspur followed by a game against Chelsea in the fifth round of the FA Cup. It will be followed by a round of 16 tie in the Champions League against Dynamo Kiev before culminating in Wembley with the League Cup final. The run of games has the potential to obliterate City's challenge on four fronts, something Manuel Pellegrini will be wary of before taking a decision on Silva.
However, they are likely to welcome back Kompany against Spurs. The defender is back in training, a massive boost after a disgraceful show put up against Leicester City at the Etihad. The City captain, who has been suffering from a calf problem all season, inculcates balance and calm to the City backline, who have been at sixes and sevens all season.
The Citizens are currently six points adrift of Leicester and one point behind Arsenal and Tottenham, with Spurs currently in second spot with a superior goal difference. The top four play each other in the coming weekend, with a chance for either team to put in a strong claim for the title with a positive result.