Luis Enrique has reached the 100 milestone as Barcelona manager with an impressive record of 80 wins, 11 draws and nine defeats, putting the previous achievements of future Manchester City boss Pep Guardiola, as well other club iconic managers like Johan Cruyff, Rinus Michels, Frank Rijkaard or Terry Venables, in the shade. Meanwhile, the Former Roma and Celta Vigo boss has also equalled Guardiola's record of 28 consecutive games unbeaten after a 2-0 victory over Levante in La Liga on Sunday (7 February).
The Spanish manager was reportedly on the verge of being sacked in January 2015, having taken over from Gerardo Martino in the summer of 2014. Yet, he managed to keep his job and eventually led Barcelona to an historic campaign, winning the treble - La Liga, the Champions League and the Copa del Rey - as well as the UEFA Super Cup and the Club World Cup.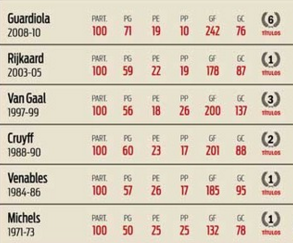 Luis Enrique is improving his achievements in the current campaign, with Barcelona in contention to repeat the treble. They lead La Liga table with one game in hand and are on the verge to secure the qualification for the Copa del Rey final after a 7-0 win over Valencia in the first leg. Added to this, they have also qualified for the Champions League last 16, with a double tie to be played against Arsenal.
The records are impressive by themselves, but look even better in a comparison with the ones of other club legends like Cruyff and especially Guardiola after he reached a centenary with a win over Levante on Sunday.
Luis Enrique has eventually managed to surpass the records of all the previous Barcelona manager who reached the 100 milestone. Barcelona have registered 80 games, 11 draws and nine defeats since Enrique took over the club in the summer of 2014 while, with Guardiola in charge, they won 71 games, drew 19 and suffered 10 defeats.
Furthermore, Luis Enrique's side have scored 282 goals and conceded 72 in his first 100 games as Barcelona manager while Guardiola's team netted 242 and conceded 77.
Barcelona, meanwhile, extended their unbeaten run to 28 games with a win over Levante on Sunday, matching the previous record set by Pep Guardiola's side in 2010-2011.
Luis Enrique, who also has the chance to beat the future City boss with a win over Valencia in the second leg of the Copa del Rey on Wednesday, is delighted about the numbers but insisted that what he cares about is to win more titles.
"I'm proud of these 100 games, but the best is yet to come," the Barcelona boss said. "Obviously it's better to make 100 games than 50, but all this means nothing to me really if it doesn't translate into titles. If these 28 games serve for something at the end of the season, then they will be welcome."