Manchester City are preparing for their Champions League semi-final second leg against Real Madrid at the Bernabéu. For some City fans, like myself, just seeing 'Manchester City' being used in the same sentence as 'Real Madrid' is still too much to process. While we are enjoying the success of the past five years, we will never forget where we came from.
Growing up in south-east England as a Man City fan was unheard of 15 years ago. Starting school as a young five-year-old, I saw someone else's backpack with a Manchester United badge on it. I said to him: "Oh, you support Man United? I like Man City". His response: "Who?! ...Do you mean Man United?"
That brief exchange summed up my childhood as a City fan. At the time we were in the old Division Two, and would go on to beat Gillingham in the 1998-99 play-off final – after Paul Dickov and Nicky Weaver's heroics.
Across town though, United were busy completing the most successful season in their history. Losing just five times in all competitions, they won the Premier League, the FA Cup and the Champions League. It seemed like every time we had reason to celebrate, we were brought back down to reality.
For me, that reality was away trips to Oxford United, Nottingham Forest and Queens Park Rangers. Visits to Maine Road would mean seeing Grimsby Town, Walsall and Port Vale. Thankfully we clawed our way up to the Premier League, and despite a couple of yo-yo seasons, we remained there.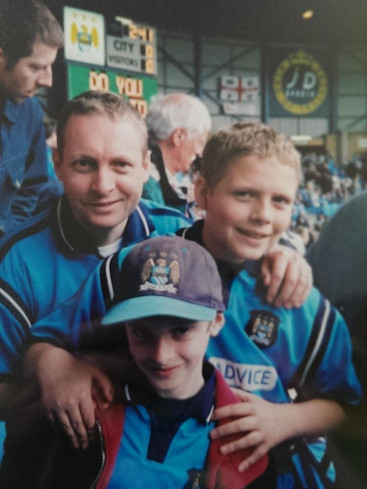 After a couple of campaigns of progress – and some obscure political problems with owner Thaksin Shinawatra – Sheikh Mansour bought City in September 2008.
We were promised endless riches, but City fans know all too well never to get their hopes up. On the very same day, however, City laid down a marker by snatching Brazilian Robinho from under the noses of Chelsea.
Just 10 months later, City capitalised on a relationship breakdown between Carlos Tevez and neighbours United – a huge signing. While the transfer was making headlines, Sir Alex Ferguson was busy downplaying Man City's ability to become one of the top teams in England.
The 2011-2012 season was a wild ride for City fans. Sergio Aguero joined us in the summer (after he graciously accepted my invitation on Twitter), and the club was off to a flying start, remaining unbeaten in the league until December. A 6-1 victory at Old Trafford – equalling a club record scoreline in the derby – showed City meant business.
Of course, being City, we decided to hit a poor run of form in January and February 2012 – just as our closest rivals in the league, United, were on fire. With the pressure seemingly off, City recaptured their form from earlier in the campaign, as United started to slip. Another victory in the Manchester derby followed and City were thrust within three points of the title before a typically mad afternoon against Queens Park Rangers.
Just like after we won at Wembley in '99, City would do things the hard way again. Pablo Zabaleta's early goal was eclipsed by Djibril Cisse and Jamie Mackie, but Edin Dzeko's header and Sergio Aguero's stoppage time strike sent the Etihad Stadium into pandemonium.
When that goal went in, I dropped to my knees and burst into tears. There was carnage around me, but all I could do was put my head in my hands and wait to wake up. It was too much to handle.
The blue moon had certainly risen, and to think where we were just 12 years earlier, it still gives me goosebumps. As we prepare for the second leg of the Champions League semi-final against Real, we're reminded that this incredible journey is still continuing. Who knows where we'll be in five or 10 years' time?
Honestly, I don't care. I'm still coming to terms with our transformation, and enjoying every moment of it while it happens. Whatever happens in Madrid, City fans across the country will just be proud of making it to the final four. An incredible achievement considering this time, 12 years ago we had just lost 2-1 at home to Wycombe Wanderers. This is how it feels to be City.