Manchester City manager Pep Guardiola warns against complacency
The Spaniard says City can continue to improve after 4-0 thrashing of AFC Bournemouth.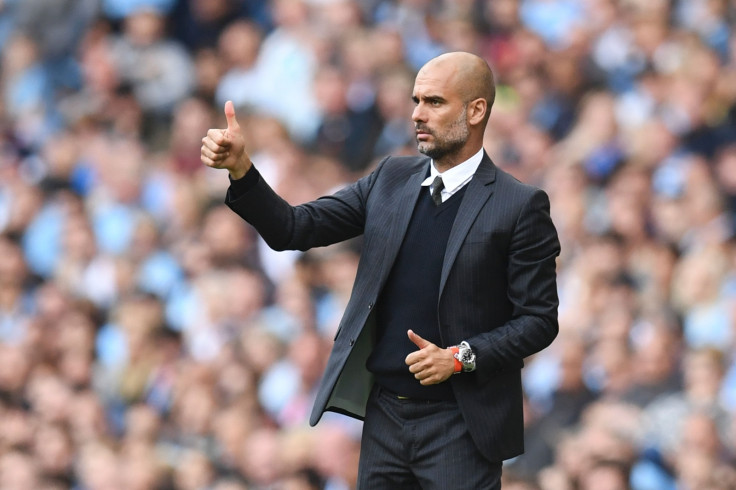 Manchester City boss Pep Guardiola has sent a warning to Premier League title rivals Manchester United, Chelsea, Liverpool and Arsenal after claiming he will not allow complacency to set in after the club's 100% start to the campaign.
The 4-0 victory over AFC Bournemouth saw City stay top of the table after five wins out of five and ensured Guardiola retains his perfect start to life in English football.
Kevin de Bruyne, Kelechi Ilheanacho, Raheem Sterling and Ilkay Gundogan all netted as the Cherries were swatted aside emphatically at the Etihad Stadium, to give City maximum points after the opening month of the season.
The win was the club's eighth of the campaign already, after victories in Champions League qualifying and their opening group match against Borussia Monchengladbach.
City have scored four or more in half of their matches, netting 25 in all, in a stunning start to Guardiola's tenure. And in an ominous message to the likes of United – who they beat in the Manchester derby last week – Arsenal, Chelsea and Liverpool the ex-Barcelona and Bayern Munich coach is confident his team will not rest on their laurels.
"That is not going to happen when I am there," he said, according to Sky Sports. "And don't say it is too easy. I heard from years ago the Premier League is the toughest league and I am going to accept that. We have a lot of work to do and we are just in September. We have played absolutely nothing. Always for the next game, we have to try to do it better than the game before."
Guardiola arrived at City with a stellar reputation as a multi-Champions League, La Liga and Bundesliga winner with Barcelona and Bayern Munich, as well as an innovator of a unique passing game which defined his spell at the Nou Camp. Nevertheless, the 45-year-old says there will be periods of adversity during his spell in charge.
"I am so happy but I have to tell you I am going to lose games," he added. "We won these five games in the Premier League and the people have very nice words but we know what happens in our world. I have seen what happens when the trainer didn't win, they have been so critical and they didn't deserve that. It is better to stay back and don't read too much. "I know we are going to lose games and it is important when that happens to be stable."
© Copyright IBTimes 2023. All rights reserved.