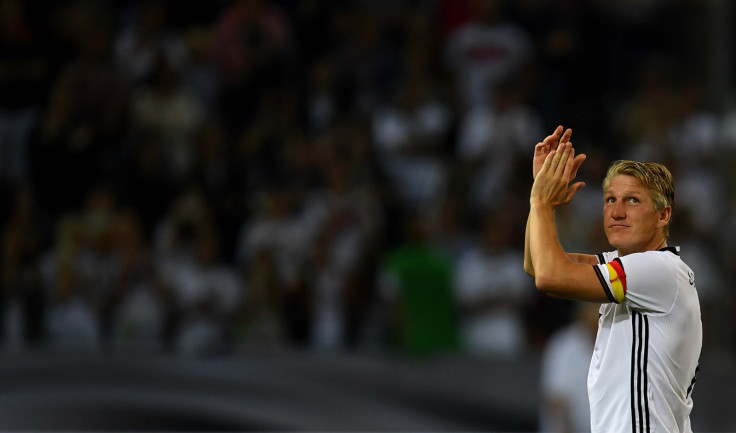 Manchester City midfielder Ilkay Gundogan thinks Manchester United could "100% benefit" by playing Bastian Schweinsteiger. The 25-year-old star thinks the World Cup-winning midfielder should be recalled to the United squad, arguing that his influence could improve their fortunes.
Schweinsteiger, 32, has been ostracized by United boss Jose Mourinho since the start of the season and despite the club's modest start to the campaign, the German appears no closer to playing for the first team. But Gundogan is confident that his former international teammate still has the quality to affect games at the highest level.
"I believe that Manchester United could 100 per cent benefit from a fit Bastian Schweinsteiger," Gundogan told Sport Bild of the United star.
Despite being relegated to train with the reserves, Schweinsteiger has largely kept a dignified silence about his omission. The German has made the occasional supportive post on social media and Gundogan has commended Schweinsteiger's attitude at United.
"If everything you hear and read is true, you can consider it disrespectful. He's not just some player, and also not only 18 or 19," he explained.
Schweinsteiger announced his retirement from international football prior to the start of the season to concentrate on playing for United. Gundogan is confident he is the man to fill the void in the Germany team left by the former captain.
"I trusted myself to do that before [Schweinsteiger's retirement], but this has nothing to do with saying his retirement is positive or negative," Gundogan said. "We should be thankful that we had such a great player."