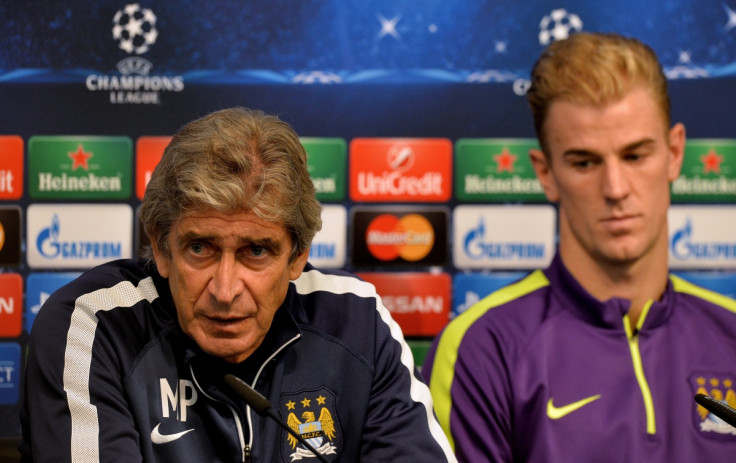 Manchester City goalkeeper Joe Hart has insisted the club's playing staff remain firmly behind Manuel Pellegrini, despite the impending arrival of Pep Guardiola. Pellegrini recently confirmed he will leave the Etihad Stadium at the end of the current campaign, but Hart has insisted the players will not lose focus between now and the end of the season.
The 28-year-old star has insisted he shares a good personal relationship with the Chilean manager. Hea dded that he has not given any thought to the arrival of Guardiola, who is joining the club from Bayern Munich.
"I think it's good that Manuel took control of the situation. It's obviously a situation that's been buzzing around the club for years, ever since Txiki Begiristain, the technical director, came in there was always that strong link with Barcelona and Pep Guardiola, but we're all really comfortable," Hart told BT Sport.
"We've got so much going on this season that next season is light years away. Football changes so much in a week and we've got, like you said, four competitions to concentrate on.
"We're very happy with the manager that's in charge of us at the moment and we're fighting on all fronts. Next season will take care of itself when it comes but until then we've got all sorts to take care of."
Hart also revealed the players were told of Pellegrini's exit from City before the Chilean announced the news to the press. "We speak every morning. It's one of the things that the manager does," he said of the coaching change at City. "At the start of training he always addresses us, talks about games coming up or something and yes, he laid it out to us, pretty much I'm sure how he laid it out in the press conference – quite casually told us that he has been in control of the situation, he's always been aware and it was the right time to tell us and he was going to let everyone know later."
The City goalkeeper added: "[Manuel] is a good guy. Football aside, I've always got on well with him on a personal point of view and I've liked the way that he's done things and it will be sad to see him go but it is obviously a new chapter for the club. That's next season and this season we've got Manuel as our manager and we're going to fight for him all the way."