Manchester City manager Pep Guardiola has lavished praise on midfielder Yaya Toure and believes the talented Ivorian still has the ability to feature for major clubs in the twilight of his career.
Toure was frozen out at the Etihad Stadium by Guardiola during the embryonic stages of the season, but has made 21 appearances since returning to first-team action in November. Guardiola, who previously worked with Toure at Barcelona, is grateful for the help the 33-year-old has given him this season and thinks he can still play "wherever he wants".
"He can play for big, big clubs," the Manchester City boss told The Mirror. "He can play wherever he wants. He has a big personality and this season, he is helping me by playing top, top football."
"He will play football until he decides because he loves playing," Guardiola added. "He enjoys playing and loves playing games. When [him retiring] happens, he will decide. The focus now needs to be on winning games and competitions."
Toure's future will have to be sorted fairly soon, but Guardiola's immediate focus is on Manchester City's Champions League last-16 second leg against Monaco on Wednesday evening (15 March).
In order to qualify, Guardiola says his Manchester City players need to take a leaf out of Barcelona's book. The Catalan giants pulled off one of sport's greatest ever comebacks last week against Paris Saint-Germain because they had the belief that they could do it, and Guardiola wants to instill the same mentality into his squad.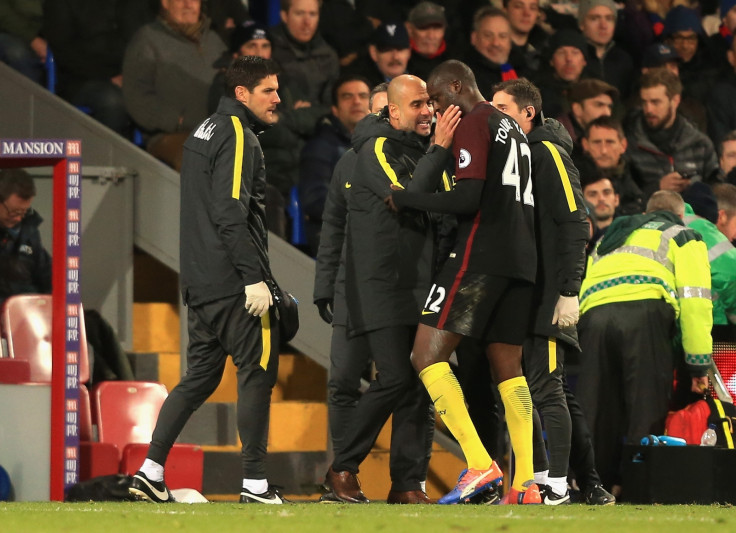 "For me, the most important thing is they never give up," Guardiola told the Manchester Evening News. "They always had faith they would qualify. It is not easy to have faith when you are 4-0 down against PSG.
"The most important thing is they believed it. After that, anything could happen in football. That is what I have to try to convince to my players. The first step is you have to dream to be in the quarter finals – you have to believe you can be there. That is the first step and after that, we will see."