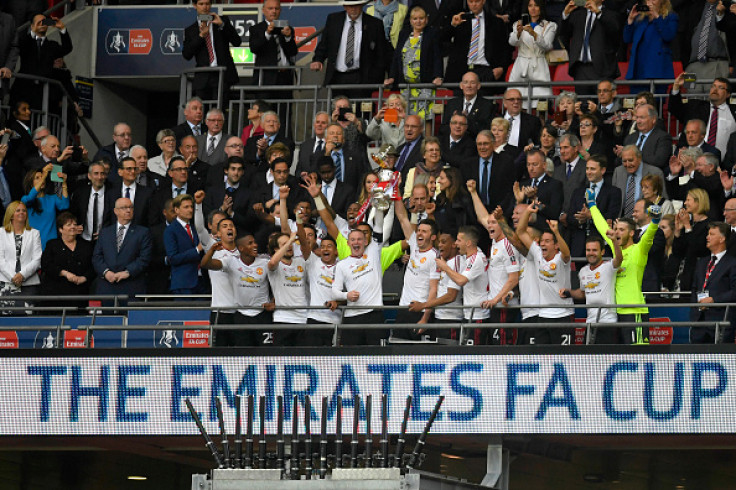 The semi-finals draw of the FA Cup will take place on Monday (13 March) after the final quarter-final match between Chelsea and Manchester United at Stamford Bridge.
Where to watch live
The draw is set to start around 9.45pm GMT. Live coverage of the FA Cup semi-finals draw will be available on BBC One and will also be streamed live on The FA TV's official YouTube channel.
Overview
The 2017 FA Cup has entered the latter stages with a semi-final place hosted at Wembley in sight. Three teams have already booked their place in the last four stage with just one place up for grabs. The draw will be held at Stamford Bridge hosted by former winner Ruud Gullit and Phil Neville alongside Jake Humphrey.
Manchester City were the first team to book their place in the semi-finals after a 2-0 win over Middlesbrough before Arsenal defeated Lincoln City – their second consecutive non-league opposition – 5-0 at the Emirates. In doing so, Arsene Wenger broke Sir Alex Ferguson's record to become the first manager to make the semi-finals on 11 occasions.
It was next the turn of Tottenham Hotspur on Sunday (12 March) when they defeated Milwall 6-0 in a London derby. The north London club's win, however, was marred by an injury to Harry Kane, who came off in the first-half with a nasty looking ankle injury.
Chelsea and Manchester United face each other in the final quarter-final clash on Monday night to decide the fourth team in the semi-finals. There are no favourites going into the last four stage with all teams in with an equal chance of making the summit clash.
It will be the first time in a number of years that four clubs from the Premier League's top six will face off in the semi-finals. Among the five presently alive in the competition, they have won the FA Cup a combined 44 times including 12 of the last 15.
Key dates
The 2017 FA Cup semi-finals fixtures will be played at the Wembley Stadium on 22 April (Saturday) and 23 April (Sunday).
The 8 ball numbers are given below:
1. Chelsea or Manchester United
2. Manchester City
3. Tottenham Hotspur
4. Arsenal