Real Madrid are considering a £50m bid for Manchester City striker Sergio Agüero, according to the Express. The Argentine international was the club's top scorer last season with 30 goals in all competitions, including a late goal against QPR in the final match of the season to seal a dramatic first league title in 44 years for the Etihad club.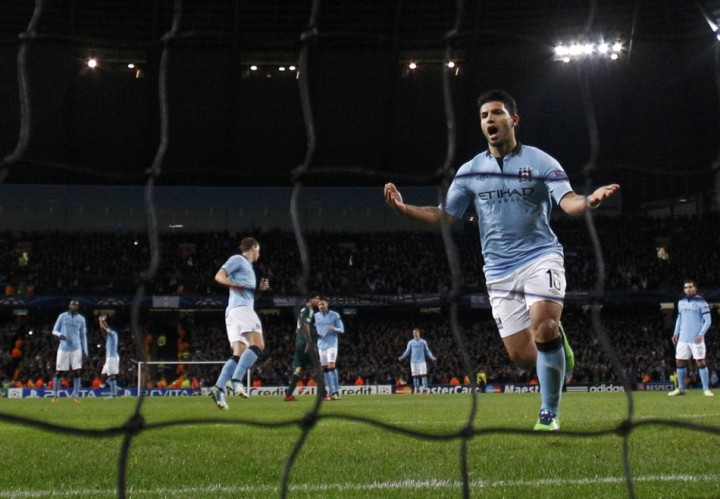 It appears the former Atletico Madrid striker's wife, Giannina Mardonna, has ended her four-year marriage to Agüero, prompting speculation from the Express that a heartbroken Argentinean could be easily persuaded to return to Spain.
Agüero himself has admitted he would welcome a chance to move to the Santiago Bernabeu, should the nine time European champions make an offer.
"If Real Madrid had been interested in me [when City were bidding], then I would be here. I had no option but to join City. I want to take this opportunity to refute the information where I supposedly said that I would never play for Real Madrid because I played at Atletico. It was published in an English newspaper," the 24-year-old clarified late last year.
The striker also revealed he was finding it difficult to adapt to the absence of his son Benjamin Agüero.
"In these last few months I've been trying to adapt myself to a new stage of my life following my separation. It's not easy after so many intense years living together and so many experiences with Gianni. During this period we grew a lot as people and most importantly we have a product of this love, we had Ben, who is a blessing," Agüero explained.
"This is what is hardest for me, because Ben is in Buenos Aires and I, for obvious reasons, am in Manchester. I try to be as professional as possible. I believe it doesn't affect my sporting performance... but to be so far away from your child is not easy. It's impossible not to miss Ben," the Argentine went on to add.
The Argentine's latest remarks will not please either Roberto Mancini or the club's fans. Agüero was injured during the early part of the season and has made only 14 Premier League starts so far. However, he has already scored eight times (with two assists) and has two more from five Champions League appearances.
City were linked with a move for Barcelona striker David Villa earlier in the season but following a Daily Mail report suggesting a £45m bid for Napoli striker Edinson Cavani, it would appear Agüero may be available for Jose Mourinho.