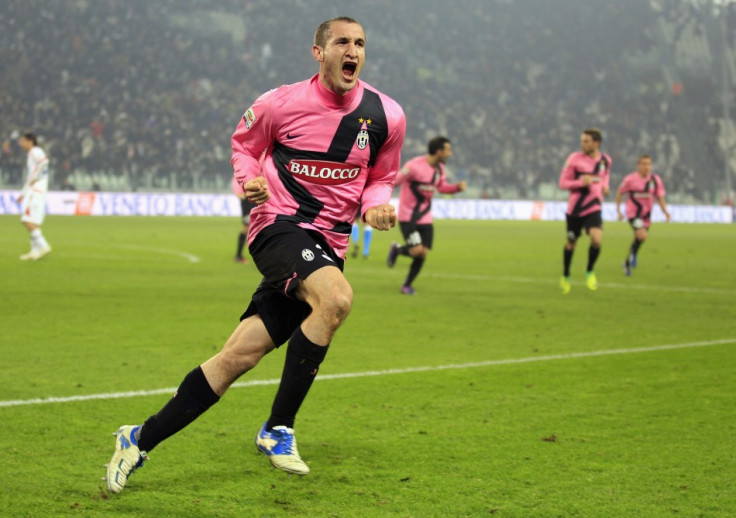 Premier League champions Manchester City have reportedly targetted two Italian stars from the Serie A, as they bid to prepare a team to defend their title next season and make a better impression on the Champions League.
The Citizens have tabled a £16mn bid for Juventus centre-back Giorgio Chiellini and although the Italian champions have turned down the bid straightaway, City boss Roberto Mancini is expected to return with a revised offer, according to the Daily Mirror. Chiellini, who is also comfortable at left-back, is seen as the star man of Italy's Euro 2012 squad. He moved to Juventus from Fiorentina in 2005 and has featured in more than 200 games for the club since breaking into the first-team under Fabio Capello.
The report also says City are expected to offload several players, with wing-back Aleksandar Kolarov and anchorman Nigel De Jong recently linked with moves to Inter Milan, according to the Daily Mail.
However, Chiellini is not the only player City plan on recruiting from Italy. Mancini is also interested in signing Parma midfielder Sebastian Giovinco, claims the player's agent, Claudio Pasqualin, who says the Premier League champions are one of several clubs that have made enquiries about Giovinco. The player can also operate as a playmaker.
The 25 year old, who notched 15 goals and 11 assists in the Serie A this season, is co-owned by Juventus and has been linked with a move back to Turin. Spanish giants Barcelona and Real Madrid and German league champions Borussia Dortmund are also reportedly keeping tabs on the player known as "formica atomica" (atom ant) in Italy, according to a Goal.com report.
"There are so many clubs interested in Giovinco, big clubs across Europe. They are in Spain, Germany and England. In the Premier League there was a contact with Manchester City," ESPN quoted Pasqualin as saying.
"[Juventus coach, Antonio] Conte wants Giovinco in his squad? I have never talked with him, but we'll meet with Juventus and I will be able to answer this question. [Parma owner] Tommaso Ghirardi said he is worth €40mn? A good agent does not enter into these issues but I agree with the Parma president. Giovinco deserves comparison with [Alexis] Sanchez and [Javier] Pastore," the agent stressed.
Giovinco has been included in coach Cesare Prandelli's provisional squad for the summer's European Championships, despite carrying an injury.
Mancini is targeting league and European glory next season and has already shortlisted targets to strengthen his squad in the summer to achieve that goal.