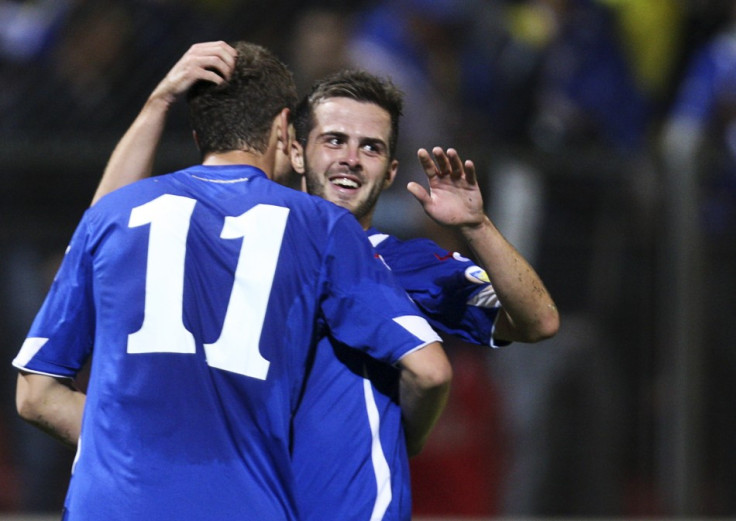 Manchester City and Bosnia striker Edin Dzeko claims he would not leave the Citizens this summer, if they sign his compatriot and AS Roma midfielder Miralem Pjanic at the end of the season.
Dzeko has been heavily linked with a move away from the Etihad this summer, with Arsenal and Bundesliga champions Borussia Dortmund reportedly interested in his services. However, the 27-year-old has now revealed he would remain at City, should they bring in his international teammate.
Recent reports had suggested City were considering a summer move for Pjanic, rated at around €25m [£21m], as a replacement for Samir Nasri. Asked whether Roberto Mancini would sign the 23-year-old playmaker, Dzeko replied: "I sincerely hope so."
"I have recommended Pjanic before to Manchester City - they know all about him. On one occasion, the manager, Roberto Mancini, asked me whether Pjanic was Bosnian. I said: 'Of course he's Bosnian!' I wouldn't be surprised if Pjanic came to City, and I sincerely hope he does. If 'Mire' came to City then I would certainly not want to leave the Etihad," the striker pointed out.
Pjanic has made 29 appearances in all competitions for Roma and Bosnia this season, notching seven goals and eight assists. The midfielder, who was linked to both Arsenal and City earlier this term, had refused to rule out a switch to the Premier League.
"I have to admit it's nice when your name is linked with big clubs in Europe. At the moment, I do not want to think about possible future destinations. I am exclusively focused on my job at Roma," Pjanic said.
Yaya Toure Signs New Four-Year deal
Meanwhile, Yaya Toure has signed a fresh four-year contract at City, dismissing speculation surrounding his future.
The Ivory Coast international has been the subject of exit rumours of late. However, the midfielder has now penned an extension till 2017 and revealed he wants to see out his career at the Etihad.
"This is where I want to be. When I first arrived at City every time I went to sleep I would dream about us winning something; now it is about us being the best team in whatever competition we take part in," Toure stressed.
"I will never forget how I have been treated here by the fans, the club and the owners and nothing would give me greater pleasure than to finish my career as a Manchester City player," the 29-year-old added.