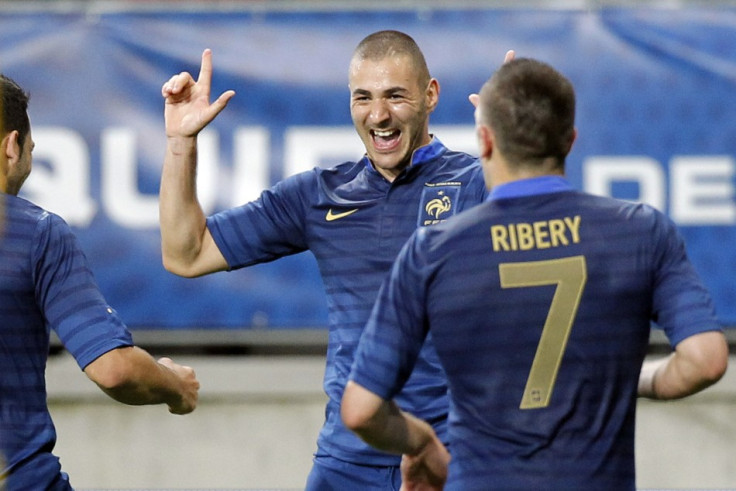 Manchester City are planning a summer move for France and Real Madrid striker Karim Benzema, according to Sky Sports. The 24 year old notched up 32 goals and 15 assists in all competitions last season as Los Blancos won their first La Liga title in four years and now the Premier League champions are understood to be interested in signing him.
Jonathan Hope, an agent who is working on securing the UK mandate for Benzema, claims he has placed the striker as a likely signing at the Etihad Stadium in the summer.
"I have put Benzema forward after a talk with a very reliable and high source at Manchester City as a possible summer signing. We are working closely to secure the exclusive mandate to obtain the paperwork firstly after a serious interest from the champions," the report quoted the agent as saying.
Benzema, who moved to the Spanish capital from Lyon in 2009, recently revealed Manchester United had been trying to sign him for four years.
"We spoke with Manchester United two years ago and it went nowhere, which I can see is perhaps a regret on their part. The player has stated himself he will not go to Manchester United, however, he has not ruled out a switch to join the champions," Hope pointed out.
"I will have a clearer picture soon after the Euros when I have time to sit with his representatives. But personally I can see the business being done and to be fair it will rock English football. I must stress this is at discussion stages. All does seem in good order but this is football and things change fast," the agent added.
Meanwhile, Benzema's compatriot Samir Nasri has stated he is determined to beat England to gain bragging rights over his City teammates.
"Winning the Euro after the Premier League would be the ultimate dream. But we must beat England. If not, I will get it from every side when I return to City. I will be facing Joe Hart, Joleon Lescott and James Milner so we must win," ESPN quoted the 24 year old as saying.
France have gone out of the last two major tournaments without winning a match and Nasri sees this tournament as an ideal platform for the team to redeem the horror shows at Euro 2008 and the 2010 World Cup.
"We're under less pressure than in 2008 when France were the second best team in the world. There is no big ogre in our group like Spain or Germany. But the first objective is to reach the quarter-finals," Nasri stressed.
"This time we are outsiders and the first match against England, will set the tone. We've had a good preparation. All the senior players had a good season and we are full of confidence. But you have to take things one at a time and wait to see how it goes in the group stage," the former Arsenal midfielder added.