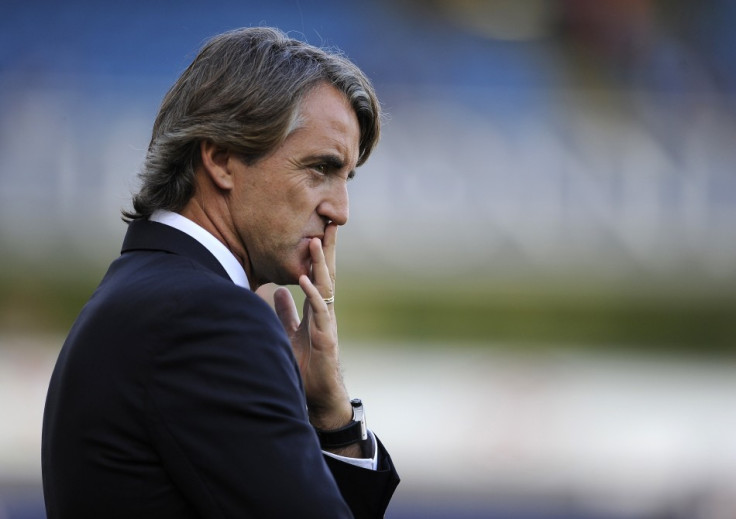 Manchester City boss Roberto Mancini has said the club should look to spend like Spanish giants Barcelona and Real Madrid, this summer, if they are to be serious contenders for the Champions League next season. City claimed their first league title in 44 years on Sunday.
"Barcelona and Real Madrid every year buy two or three players and spend a lot of money. I think for Manchester City it will be the same. We need to improve. We need to have the strength to play Champions League and Premier League," Mancini was quoted as saying by BBC Sports.
The 47 year old Italian, who has reportedly flown to Abu Dhabi to discuss City's spending strategy in the forthcoming transfer window, feels that investing in more world class players will be the key to success next season. According to an earlier IBTimes UK report, Mancini is in pursuit of Arsenal captain Robin van Persie and Lille midfielder Eden Hazard.
However, despite support from the club's owners, Mancini will have to abide by UEFA's new financial fair play regulation that restricts the amount of money each club can spend. As a result of this new rule, Mancini, who spent close to £200mn last summer, will have to trim his squad considerably in order to make way for new arrivals. Nonetheless, the manager is convinced he has to have new players if City are to win more silverware next season.
"For this we need to have a good team, a strong team with a good mentality, but I'm sure we will do it. We have started a new cycle, but in order to win the Champions League you need more," the Telegraph quoted Mancini as saying.
"The Champions League is the next step. The first year was the FA Cup, the second the Premier League and I hope the third will be the Champions League. But we have to improve a lot," Mancini added, according to The Sun.
Meanwhile, Mancini has dismissed talk of continued rifts between the club and controversial strikers Carlos Tevez and Mario Balotelli. However, while he has confirmed Balotelli's presence at the club next season, he has not spoken about Tevez's future. He has, though, claimed to have patched up differences with the 28 year old Argentine, who undoubtedly played a major role in City's Premier League success.
"It's not difficult to manage Tévez. He's a good guy. We had a good relationship, always. I don't know why we had that situation in September, but in the end he's a good guy and a fantastic player. But there is no question he made a difference in the title race. Carlos is an incredible, top player," he said according to a UKPA (United Kingdom Press Association) report.