Real Madrid defender Raphael Varane has been linked with a summer transfer to Manchester City. The Daily Express claim the Manchester outfit could be eying the Frenchman as long-term replacement for Joleon Lescott. The ex-Everton defender is in the final year of his contract and is expected to be part of City's summer clear-out. However, City will have to battle Paris Saint-Germain for his services as the French club are looking to strengthen defensive options for next season.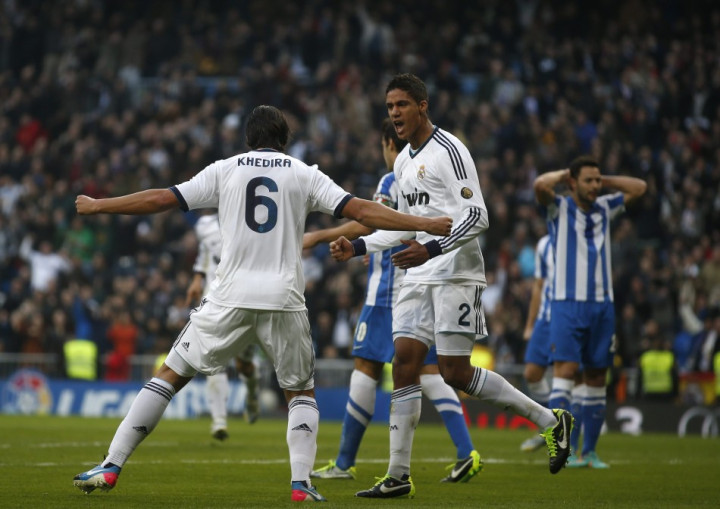 Varane impressed in last week's Copa del Rey semi-final against Barcelona, scoring the equaliser and putting in an altogether impressive display. Varane partnered ex-Chelsea centre-back and veteran Portuguese international Ricardo Carvalho, with first team choices Pepe and Sergio Ramos unavailable. The youngster's impressive performance shouldn't come as a surprise, given Ramos' comments last year.
"Varane is very young and he played at a high level. He proved he has a place on the team," the Spanish international told his club's Web site, "He is a great footballer despite his young age and may reach very far."
Madrid signed the defender from RC Lens in 2011 for a fee reported to be around £9m. It seems unlikely Madrid would part with the promising defender at such a young age, especially since he is just beginning to find his feet in the team. However, a big money offer is always difficult to turn down and given City and PSG's history of paying exorbitant transfer fees they will likely be able to afford Varane.
City will hope that Varane can help bridge the gap between them and Manchester United. They are presently nine points behind the league leaders, with the prospect of consecutive Premier League titles looking increasingly difficult.
However, despite the point difference, City goalkeeper Joe Hart remains optimistic.
"Of course we still feel we can do this," he told reporters, when asked about catching United, "That's who we are, and that's what we are. We've put ourselves in a worse position than we would like to be, but that's football sometimes."
City can take heart from last season, where they overturned an eight point deficit and lifted the title on the final day.
"The only time we can have an impact on them is when we play them," Hart continued, "They do what they do, and I'm sure they have realised that if they play well they have a very good chance, but we know that we will always be there."