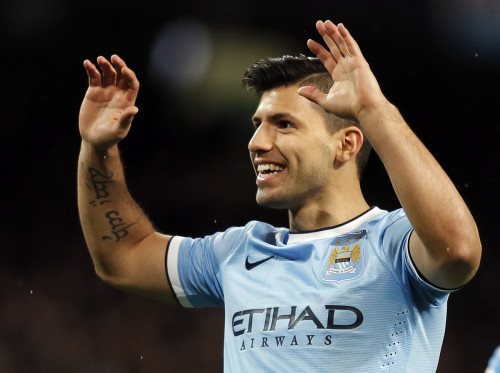 Manchester City's ominous surge to the Premier League summit after thrashing 10-man Tottenham Hotspur was tempered by injury to top scorer Sergio Aguero whose first half hamstring strain gives Arsenal and Chelsea a lifeline in the title race.
Though City have plundered 115 goals in all competitions this season, Aguero's contribution has been the most significant, with the Argentine netting his 26th of the campaign to open the scoring at White Hart Lane.
Alvaro Negredo, Edin Dzeko and Yaya Toure are all in double figures in terms of league goals this season but Aguero's potency had defined City's season and any loss, particularly with matches against Chelsea, Barcelona, Manchester United and Arsenal to come in the next two months, would be a crucial blow to Manuel Pellegrini's side.
But Aguero said on Twitter: "I felt some pain in my right hamstring and left just as a precaution.
"My studies will tell me the degree of the injury.
"It's a pity about the injury but it's easier knowing that we are on top. I hope I get back out on the field soon to keep helping the team."
City boss Pellegrini added: "We will see tomorrow with the doctor what happened with Sergio. We hope we can recover him as soon as possible."
Captain Vincent Kompany said: "It's bad news to lose Sergio but we'll have to see, I don't know how bad it is. There's good news though – Jovetic stepped up and scored today and he looked like the player we thought he was when we got him with this performance."
Amid draws against Southampton and West Ham United respectively, Arsenal and Chelsea will have been buoyed by City losing Aguero, a positive in a week where both lost ground in the title race.
With 15 league games left, Arsenal trail City by just a point but could resume their lead should they beat Crystal Palace while Chelsea are three points adrift from the top prior the trip to the Etihad Stadium.
Monday's showdown could see Arsenal return to the top again ahead of a run of games where they face Liverpool twice, United, Bayern Munich and Sunderland in February.