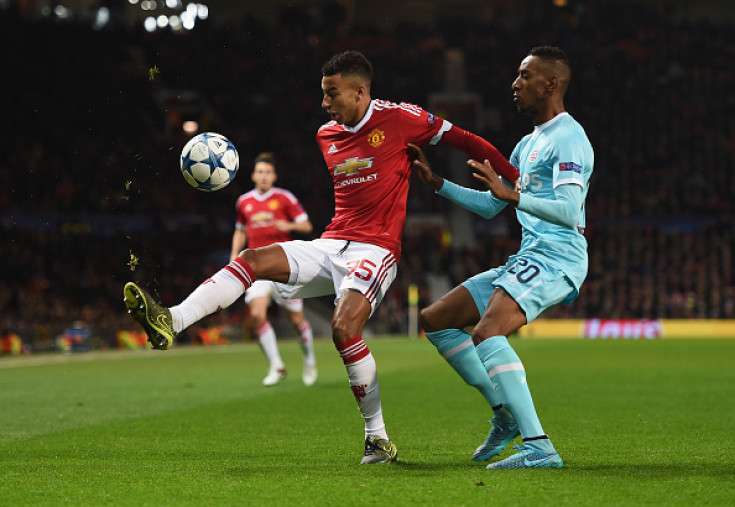 Louis van Gaal has rued Jesse Lingard's missed opportunity to score in Manchester United's disappointing goalless draw against PSV Eindhoven in the Champions League. Their failure to win at Old Trafford in the European competition has now forced them to win their next match in order to finish on top of the group table.
The 22-year-old retained his place in the starting lineup along with Memphis Depay while Juan Mata was forced to settle for a place on the bench. Anthony Martial and Wayne Rooney, who missed United's 2-1 victory over Watford, returned to the starting lineup.
United had an opportunity to qualify for the knockout round of Europe's elite club competition. The former Barcelona and Bayern Muncih manager has expressed his disappointment as United failed to convert their chances against PSV despite dominating the match with possession.
"Still [in the second half] we have created one big chance for Jesse Lingard which we could have finished and that is very disappointing, also for the fans, that we didn't score, though he played very well," Van Gaal said, as quoted by United's official website. "It was so close, but we still didn't score. We could have qualified and it's a big disappointment also for the players."
The latest result has put the Red Devils under immense pressure and a defeat in the final match against Wolfsburg in Germany could see them being demoted to the Europa League. United are second in the table with eight points, two points behind Wolfsburg and a point ahead of the Dutch champions, who face CSKA Moscow at home in their last match of the group stage.
A defeat for PSV against the Russian club will see United go through the last 16 of the Champions League, irrespective of the outcome against Wolfsburg. Van Gaal has urged his players to replicate United's away form in the Premier League when they face the Bundesliga outfit in December.
"We are still second and are still in the qualifying position. We have to win in Wolfsburg and that's a difficult game but everything is possible, it is never impossible," the ex-Netherlands manager explained. "We won at home against them, so why can't we win away? We can win everywhere. We prove it this year. Also in the Premier League, our average in away matches is much higher than last year. And we have to do that also in the Champions League."