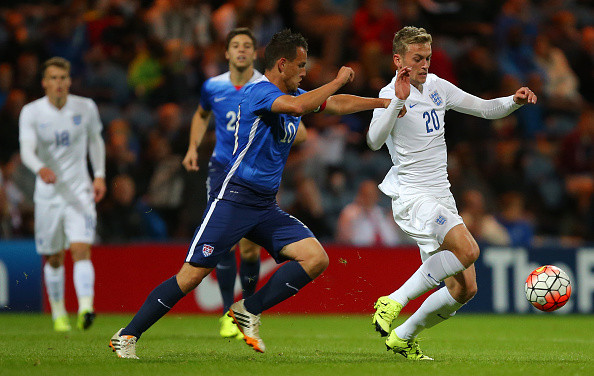 Manchester United manager Louis van Gaal has confirmed that James Wilson is expected to follow the footsteps of Adnan Januzaj by moving on loan to a Championship side to secure more playing time. The Dutch boss, nevertheless, claimed the club will have the option to recall the 19-year-old academy star should any of the club's first-choice strikers get injured.
Reports have revealed that van Gaal was ready to part ways and send Wilson on loan to a Championship side to continue his development - with both Bolton Wanderers and Derby County since admitting an interest in the striker. The manager has now confirmed the news but reveals an option to recall him in case it is considered necessary. After the manager allowed the departures of all Robin van Persie, Radamel Falcao and Javier Hernandez during the summer transfer window, he will have Wayne Rooney and new signing Anthony Martial as the only forwards in the squad.
Van Gaal explained promising starlets likes Wilson and Januzaj need to play frequently in order to continue their development. "I have said to Januzaj that I will give him opportunities in the position of nine and maybe of 10. I have done that and then decided that, no, it would be better for him to go to another environment, maybe he will play more with them than me and we can see if he develops himself," he said.
"It is the same thing that I have said to James Wilson. I have said the same thing, only James has to go to a Championship club, so then I can call him back if my striker is injured. Then we need him and then he would have more playing time," van Gaal added. "But for Wilson, another year in the same way as last year is not good for his development. It is not good for Januzaj either. This is why we let players go on loan and we don't sell, because we believe in the quality of Januzaj and in the quality of Wilson."
The United boss has also cautioned not to expect too much too soon from Martial despite his huge transfer fee as he is just a 19-year-old kid. Van Gaal points out players from other leagues need time to adapt to the Premier League pace – as United fans know well following the failures of both Angel Di Maria and Radamel Falcao last season.
"There is a market and a market price and we cannot have any influence on that price. I said to Ed [Woodward, the executive vice-chairman] that he is the best of his age and we need a striker for the future. We could wait a year and pay another £10m. I imagine the fans think, '£50m, he has to score.' No, he is 19 and he has to adapt," he said.
"You could see how [Ángel] Di María and [Radamel] Falcao struggled. The pressure at United is much higher than at another club, so we musn't give him too much pressure. But he must adapt to our culture and philosophy and that is difficult enough. But it counts also for [Adnan] Januzaj and [James] Wilson."
Van Gaal also confirmed Wayne Rooney and Michael Carrick approached him earlier in the season to say "the dressing room is flat". However, the boss took it in a positive way as believes they voiced their opinions just to help him.
"They told me to help me. I communicate not only with my captains, they try to warn me. I then go to my dressing room and discuss with my players and we discussed a lot of aspects - but not what some have written," he said after reports suggested some players were unhappy with his methods. "Some players are coming to me to apologise about what has been said in the papers."