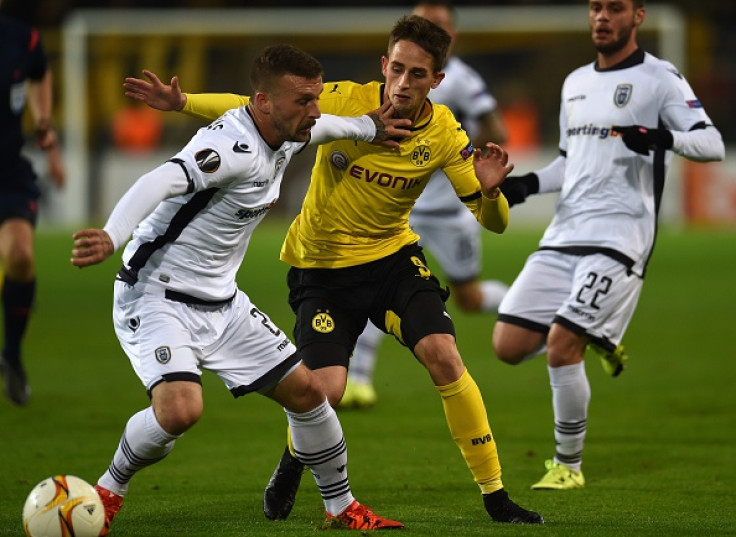 Manchester United midfielder Adnan Januzaj, who is currently on loan at Borussia Dortmund until the end of the season has admitted that he is uncertain of his future at Old Trafford once his spell with the Bundesliga club comes to an end. The Belgian international joined the German outfit four games into the Premier League season in order to get regular game time, something that was not on offer under Louis van Gaal.
The 22-year-old midfielder, however, is having a tough time at the Westfalenstadion and has struggled to break into the first-team thus far this campaign. He has played just 160 minutes in the Bundesliga, and made his first start for the club since October during their 1-0 loss to PAOK in the Europa League on Thursday (10 December). Louis van Gaal has already admitted that the player made the wrong decision in moving to Dortmund, and the Red Devils are unable to call him back despite his lack of game time, as rules stipulate that he will have to honour his contract until the end of the season.
Januzaj has admitted that the lack of game time under Thomas Tuchel is affecting him mentally and physically, and believes that it is making it difficult for him to perform at an optimum level when called upon. Van Gaal is confident that the Belgian international can play at the top level, but the player remains uncertain about his future with the 20-time English champions.
"I don't know [on returning to United]. I wanted to join somewhere I could play and there were a few things behind that were a problem but I'm happy here. I just need more games to play and then I'll be fine," Januzaj said, as quoted by the Manchester Evening News.
"I'm trying to do my best because obviously I've not got a lot of games in my legs which is difficult for me mentally, because I need more games to be a better player. Also at the moment I don't really have that level of fitness that allows me to do more than another player."
"Of course it's about adapting but I need more games to be fitter and take people on. I have qualities also that I showed in the first year in United but I need games in my legs which is difficult at the minute. But I'm training for myself and training hard to always be fit whenever l play so I can do something," he added.