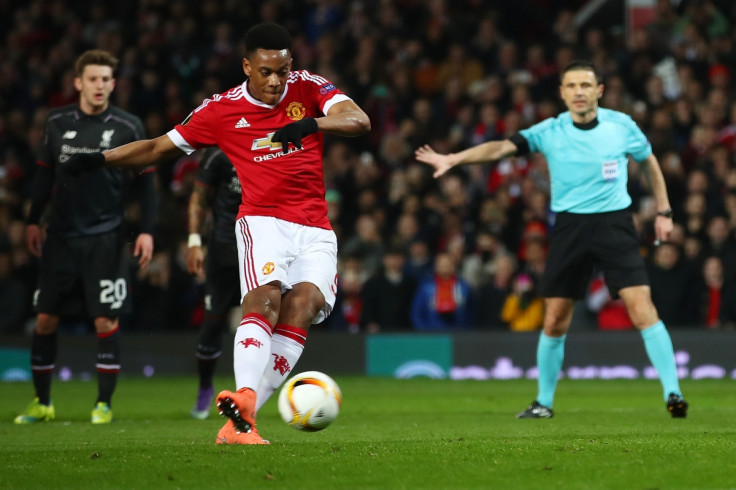 Former Manchester United striker Louis Saha has hailed Anthony Martial as the next Thierry Henry and believes that the 20-year-old is as good as the Arsenal veteran at his age. The former Monaco man has 12 goals to his name this season and Saha believes that he will only grow better with age.
Martial has been an instant hit with the fans since his move last summer, courtesy his brace against Liverpool in the league which led to their third win over their arch rivals in consecutive games under Louis van Gaal. The youngster has been used in a variety of positions across the front three but is currently being used through the middle in the absence of Wayne Rooney through injury.
However, Saha insists that Martial is far from a finished product and that he needs to work on his decision-making in order to take the next step. Saha, who has played with Henry for the national team, reveals that Henry was a very decisive player on the pitch and that Martial needs to keep wanting to improve in order to reach that level.
"He has definitely got the quality and the platform for working really hard at Manchester United," Saha told Manchester United's official website. "When you get that, you get the experience under your belt of being at a big club and you get respected easier with France. When you see him, he has as much quality as Thierry Henry at this age.
"Thierry was a really decisive player and that is where Martial needs to work; he needs to be more precise and give more indication to his game. Everything seems to be easy for him: being on the ball, being strong, holding the ball at the right moments, getting important goals and being able to play week in and week out. He hasn't played this many games during his career so he has done really well to adapt his physique.
"What I really like about him is that he is willing to improve. He is listening and trying to get things going. He hasn't been helped because the team hasn't been performing consistently, so imagine if a few players stepped it up? Then it would have been even easier for him."