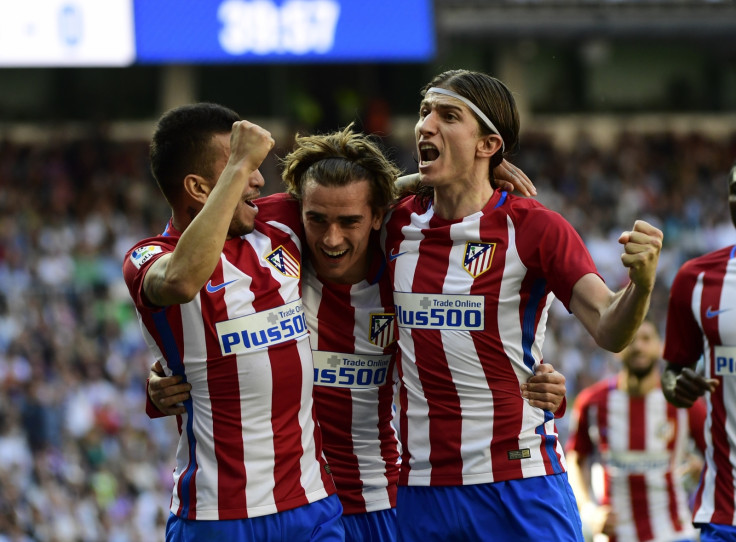 Manchester United target Antoine Griezmann has ended talk of leaving Atletico Madrid for their city rivals Real Madrid.
Griezmann, 27, remains linked with a move to Old Trafford, with the Daily Telegraph reporting in March the club already have plans in place to trigger his £85m (€99.6m) release clause at the end of the current season.
The France international has played down talk of a move to United though, questioning whether he would be able to settle in England after spending his entire professional career in Spain.
Griezmann is one of the most sought-after players in the game at the moment with Real Madrid among the list of clubs said to be interested in signing him. According to L'Equipe, the La Liga giants are prepping what they have called "The Secret Plan" for the summer of 2018 – bringing in Griezmann to act as Cristiano Ronaldo's long-term replacement.
The former Real Sociedad star scored an equaliser for Atletico against Real in Saturday's (8 April) Madrid derby, a goal that denied Zinedine Zidane's side the chance to move five points clear at the summit of the league.
When asked about the possibility of a move across town to the Santiago Bernabeu, Griezmann said: "I can't say yes or no. You never know what can happen in football, but moving from Atletico to Real, I don't know if it is achievable.
"Very few players have done so. For this reason, I think it is dead."
Those comments could bode well for United and Jose Mourinho, who has stated on numerous occasions this year he already knows which players he wants to sign in the summer.
"In the second season, I know everything that is going on," Mourinho said during a press conference in March. "I know the players I want, the players I don't want, why a player is playing, why a player is not playing. Now, I am inside for 10 months and 10 months is a long time and the second season is, I think from the managerial point of view, an easier season than the first."