Manchester United manager Jose Mourinho admits he deeply regrets the way he treated Bastian Schweinsteiger earlier this season.
Schweinsteiger completed his move to MLS side Chicago Fire this week having failed to make a single Premier League appearance under Mourinho.
The former Germany international was exiled to the reserves last summer and was initially left out of the club's Europa League squad. The midfielder was also written off as an asset in the club's accounts released in September, seemingly ending any hope of the former Germany international playing for the club again.
The 32-year-old returned to first-team training in October however and went onto make a handful of appearances for the club in the Europa League, EFL Cup and FA Cup – where he provided a superb performance in the 4-0 win over Wigan Athletic.
Speaking at a press conference on Friday, Mourinho admitted he initially handled the situation wrong and allowed the player to leave because he knew he had not "treated him right."
"Bastian is in the category of players that I feel sorry for something that I did to him," Mourinho said ahead of Saturday's clash with West Brom. "I don't want to speak about him as a player, I don't want to speak about him as whether I would buy him or not to buy him. I want to speak about him as a professional.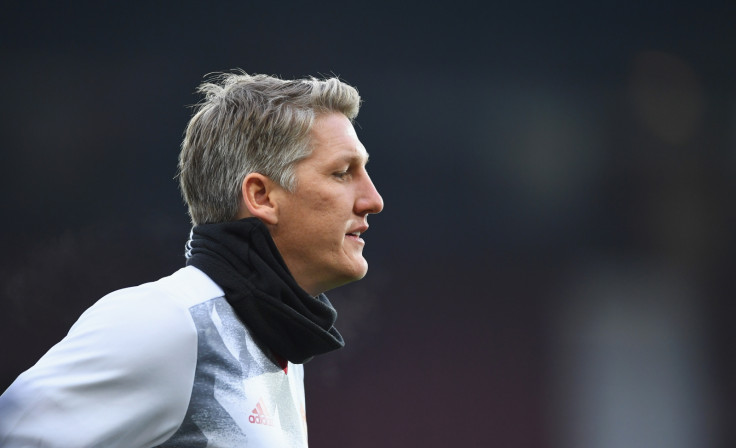 "I want to speak about him as a human being and that was the last thing I told him before he left – 'I was not right with you once, I have to be right to you now'. So, when he was asking me to let him leave, I had to say 'yes, you can leave' because I did it once, I cannot do it twice, so I feel sorry for the first period with him. He knows that.
"I'm happy that he knows because I told him and I will miss a good guy, a good professional, a good influence in training. A very good influence. So I couldn't stop him going, even though, until the end of the season, we have so many matches and probably we would need him for a few matches or a few periods."
When asked if he regretted his treatment of the former Bayern Munich star, he added: "Yes, yes, I do."
Since taking over, Mourinho has shown no hesitation in trimming United's bloated squad with Schweinsteiger, Memphis Depay and Morgan Schneiderlin all leaving the club in 2017.
The United boss says he already knows which players will join that trio in leaving the club next summer and, rather more tellingly, which players he wants to bring in.
"In the second season, I know everything that is going on," Mourinho said. "I know the players I want, the players I don't want, why a player is playing, why a player is not playing. Now, I am inside for 10 months and 10 months is a long time and the second season is, I think from the managerial point of view, an easier season than the first."