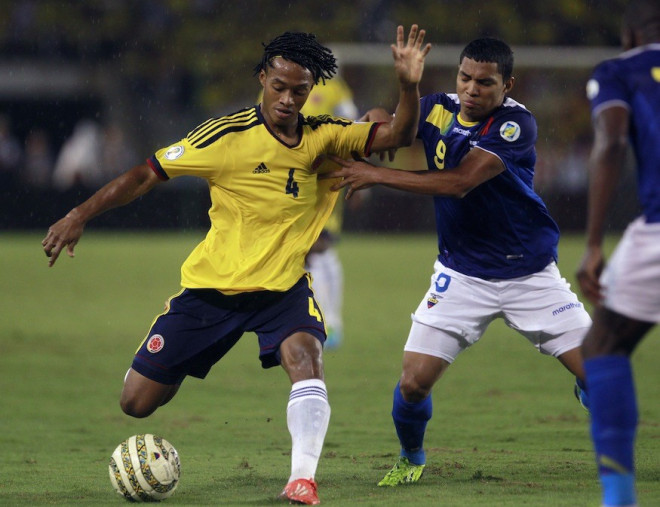 Barcelona, Manchester United and Arsenal target Juan Cuadrado could yet join Juventus, according to reports.
The 25-year-old Colombian international - whose rights belong to Udinese and Fiorentina - is proving to be a sensation in the Italian Serie A.
Mundo Deportivo claimed last week that the Catalan club have already agreed personal terms with the player having earmarked him as a replacement for Dani Alves, but have not had talks with Fiore yet to negotiate a fee for his transfer. Barca are not willing to pay more than €20m, a deal that does not please his current team neither Udinese, as they demand an equal share of €30m.
According to La Gazzetta dello Sport, Juventus coach Antonio Conte is reportedly keen on Cuadrado's signature as they are ready to improve Barca's offer – so the Catalan club need to move fast if they do not want to risk losing their main option for the right side.
Fiorentina are ready to sell his star in the summer but the problem is that the right-back is also co-owned by Udinese and Juve or Barca will need to agree terms with both clubs to secure his services.
Furthermore, United and Arsenal are also monitoring the situation. Arsene Wenger has made the Colombian his top target next summer and has already tried to secure his services in January.
Meanwhile, former United boss Moyes was very interested in securing his services and sent one of his representatives to Italy to monitor Cuadrado's development while Bayern Munich's Pep Guardiola are also keen in the player.
The winger would be happy to be Dani Alves' replacement on the right wing at the Nou Camp, but will not rule out remaining in Italy.
After abandoning his original role as a winger for a deeper position, Cuadrado has scored nine goals and grabbed six assists in 29 domestic league appearances this season.